Curso Pórtico Rolante em Inglês
Nome Técnico: Safety Course in the Operation of Gantry Rolling NR 11 and NR 12
We provide courses and training; We carry out Translations and Versions in Technical Language: Portuguese, English, Spanish, French, Italian, Mandarin, German, Russian, Swedish, Dutch, Hindi, Japanese and others consult.
Não perca tempo, solicite SUA proposta agora mesmo!
Conteúdo Programatico Normativo
Gantry Rolling Course
Physical arrangement and facilities;
Electrical installations and devices;
manuals;
Safety Signaling;
Starting, driving and stopping devices;
Emergency situation procedures;
Security systems;
protections;
Material storage;
Mechanical and Electrical Risks;
Maximum allowable workload;
Safety standards for operation;
Risks associated with each machine and equipment;
Work and safety procedures;
Emergency stop devices;
Pressurized components;
Material conveyors;
Operators of motorized transport equipment;
Ergonomic aspects;
Equipment used in material handling;
Additional risks;
Risk Control;
Risk control measures;
Maintenance, inspection, preparation, adjustment, repair and cleaning;
Signaling.
Source: NR 11 and NR 12.
Complements for Machinery and Equipment when applicable:
Awareness of Importance:
Machine or Equipment Operation Instruction Manual;
Machine or Equipment Inspection and Maintenance Plan following NR 12;
Technical Report with ART of the Machine or Equipment according to NR 12;
Load Test (with ART) according to NR 12;
Machine and Equipment Tagging;
RETROFIT – Modernization Process;
Daily Checklist;
One-off or cyclical maintenance.
Activity Add-ons:
Awareness of Importance:
Understanding the need for the Rescue Team;
The Importance of task knowledge;
Prevention of accidents, fire protection, and notions of first aid;
PRA – Preliminary Risk Analysis;
Perception of risks and factors that affect people's perceptions;
Impact and behavioral factors on safety;
Fear factor;
How to discover the fastest and easiest way to develop Skills;
How to control the mind while working;
How to administer and manage working time;
Because balancing energy during activity in order to obtain productivity;
Consequences of Risk Habituation;
Causes of accidents at work;
PGR – Risk Management Plan;
Understanding the Cause Tree;
Understanding Fault Tree;
EP – Emergency Plan;
Understandings about Ergonomics;
Workplace Analysis;
Ergonomic Risks;
Hazard Communication Standard (HCS) – OSHA;
Practical Exercises:
Record of Evidence;
Theoretical and Practical Assessment;
Certificate of participation.
Our Multidisciplinary Team is allowed to insert norms, laws, decrees or technical parameters that they deem applicable, whether or not they are related to the scope of the negotiated service, with the Contracting Party being responsible for carrying out the necessary services in accordance with the legislation, as established in the same.
Gantry Rolling Course
Referências Normativas
Carga horária e Atualização
Complementos
Saiba mais
Promoção Relâmpago - Até 70% de desconto!
Curso NR 10 Básico em EAD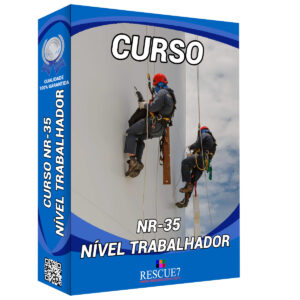 Curso NR-35 - Nível Trabalhador
Curso Como Elaborar Projeto de Linha de Vida - Nível Básico
Curso Espaço Confinado - Autorizados e Vigias NR 33