Curso Operador de PEMT Plataforma Elevatória NR 18 em Inglês
Technical Name: Mobile Elevator Platform Operator Course NR 18 and NBR 16776 - Occupational Health and Safety Conditions in the Construction Industry
We provide courses and training; We perform Translations and Versions in Technical Language: Portuguese, English, Spanish, French, Italian, Mandarin, German, Russian, Swedish, Dutch, Hindi, Japanese and others consult.
Lift Platform Operator Course NR 18
The Lift Platform Operator Course aims to specify the safety requirements and preventive measures, as well as the means for their verification, for some types and sizes of mobile work lift platforms intended for the positioning of people, together with their tools and materials needed in the workplace.
What is Mobile Work Elevator Platform?
Mobile Work Elevator Platform is equipment used in several areas of the industrial sector, built to work in high places with difficult access, such as works, constructions, among others.
Types of Mobile Work Elevator Platform:
Hinged Elevator Platform;
Scissor-type Lifting Platform.
Click on the Link: Criteria for Issuing Certificates in accordance with the Norms
Certificado

Course Load: 04 Hours

Prerequisite: Literacy
Conteúdo Programatico Normativo
Lift Platform Operator Course
Safety devices for leveling at the work point:
Internal support handle;
Fall protection system that meets the manufacturer's specifications;
Emergency stop button;
Emergency device that makes it possible to lower the worker and the platform to the ground in case of an electrical, hydraulic or mechanical failure;
Automatic audible signaling system activated during ascent and descent;
Protection against electric shock;
PEMT Movement:
Clear vision of the path to be taken;
Safe distance from obstacles, dips, ramps and other risk factors;
Minimum distance from aerial obstacles;
PEMT displacement speed limitation;
Surface conditions;
Traffic, visibility, the existence of slopes, the location of the team and other risk factors for an accident;
Renovation/Refurbishment Requirements:
Applicability;
Exclusions;
Security requirements and/or protective measures:
Conformity;
Structural and stability calculations;
Calculations and rated load;
Requirements of loads and forces acting on the PEMT structure;
Stability calculations;
Structural calculations;
Verification;
Controls:
Activation and operation;
Movement direction;
Location, accessibility, protection and selection between duplicate controls;
Emergency stops;
Electric switches;
Pilot valves and solenoids;
Power restoration after failure;
Emergency system;
Speed ​​restriction;
Automatic or scheduled operation;
Winch control in PEMT;
Chassis and stabilization devices:
Automatic security device;
Chassis tilt;
Locking pins;
Stabilization device base;
Allowed positions of the work platform;
Prevention against movement of the energized stabilization device;
Manually operated stabilization devices;
Movement of stabilization devices;
Hourmeter;
Control positions;
PEMT fully operated manually;
Oscillating axle locking or control systems;
Self-propelled PEMT brakes;
Unauthorized use of PEMT;
Maximum speeds in high travel position;
Braking distances;
Engine gas exhaust;
Fluid filling points;
Battery containment;
Prevention against derailment and lack of control;
Daily use:
Operational and emergency controls;
Equipment safety devices;
Personal protective devices, including fall protection;
Air, hydraulic and fuel systems;
Electrical panels, cables and harnesses;
Tires and wheels;
Signs, warning and control signs;
Stabilizers, expandable axles and structure in general;
Other items specified by the manufacturer.
Design, fabrication and remanufacturing requirements;
Extendable frame drive systems:
Generalities;
Steel cable drive systems;
Chain drive systems;
Lead screw drive systems (worm gear);
Rack and pinion drive systems;
Basket:
Basket level;
Basket materials;
Protection systems — Railing  Anchor(s);
Basket floor;
chains or cables;
Access ladder;
Supports and handrails;
trapdoors;
Audible warning device;
Media;
Mechanical limiters;
Baskets constructed of non-conductive materials;
Extensible structure:
Methods to prevent tipping and allowable excessive stresses;
Extensible framework sequencing;
Trapping and shearing;
Extensible framework support for routine maintenance;
Extensible framework support for routine maintenance;
Extensible frame speeds;
Hydraulic cylinders:
Structural design;
Prevention against unintentional movement of load holding cylinders;
Verification;
Security devices;
Electrical equipment:
Relevant norms and standards;
Disconnection from the main power supply;
Cables;
Battery protection;
Water inlet;
Electromagnetic Compatibility (EMC);
Hydraulic systems:
Pressure limiting device;
Resistance of tubes and connections;
Resistance to rupture of hoses and connections;
Nominal pressure of other components;
Pressure gauge connections;
Release of air;
Input filter;
Fluid level indicators;
Fluid cleaning;
gas accumulators;
Verification of requirements and/or security measures:
Exams and tests;
Generalities;
Design verification;
Manufacturing verification;
Essay;
Prototype tests;
Production PEMT tests;
Usage Information:
Generalities;
Maintenance of PEMT;
Scheduled or frequent maintenance;
Pre-delivery inspections;
Pre-use inspection;
Marking;
Generalities;
Manufacturer's plate;
Varied nominal loads;
Emergency systems;
Stabilizing device load or wheels;
Tire pressure;
Use of the stabilization device;
Annual inspection.
Complements for Machines and Equipment when applicable:
Awareness of Importance:
Machine or Equipment Operation Instruction Manual;
Machine or Equipment Inspection and Maintenance Plan following NR 12;
Technical Report with ART of the Machine or Equipment according to NR 12;
Load Test (with ART) according to NR 12;
NR 10 Electrical Tests;
Tagging of Machines and Equipment;
RETROFIT – Modernization Process;
Daily Checklist;
Punctual or cyclical maintenance.
Activity Complements:
Awareness of Importance:
APR (Preliminary Risk Analysis);
PAE (Emergency Action Plan;
PGR (Risk Management Plan);
Understanding the need for the Rescue Team;
The importance of knowledge of the task;
Accident prevention and first aid notions;
Fire protection;
Perception of risks and factors that affect people's perceptions;
Impact and behavioral factors on safety;
Fear factor;
How to discover the fastest and easiest way to develop Skills;
How to control the mind while working;
How to administer and manage working time;
Why balance energy during activity in order to obtain productivity;
Consequences of Habituation of Risk;
Work accident causes;
Notions about the Tree of Causes;
Notions about Fault Tree;
Understanding Ergonomics;
Job Analysis;
Ergonomic Hazards;
Hazard Communication Standard (HCS) – OSHA;
Practical exercises:
Registration of Evidence;
Theoretical and Practical Assessment;
Certificate of participation.
Our Multidisciplinary Team is entitled to insert the standards, laws, decrees or technical parameters that they deem applicable, whether related or not to the scope of service negotiated, with the Contracting Party being responsible for providing the necessary services in accordance with the legislation, as established in them.
Lift Platform Operator Course
Referências Normativas
Lift Platform Operator Course
Normative references when applicable to applicable devices and their updates:
NR 01 – Disposições Gerais e Gerenciamento de Riscos Ocupacionais – (General Provisions and Occupational Risk Management);
NR 11 – Transporte, Movimentação, Armazenagem e Manuseio de Materiais – (Transport, Handling, Storage and Material Handling);
NR 12 – Segurança no Trabalho em Máquinas e Equipamentos – (Safety at Work in Machines and Equipment);
NR 18 – Condições de Segurança e Saúde no Trabalho na Industria da Construção – (Occupational Health and Safety Conditions in the Construction Industry);
NBR 16776 – Plataformas elevatórias móveis de trabalho (PEMT) – Projeto, fabricação, manutenção, requisitos de segurança e métodos de ensaio – (Mobile work platforms (PEMT) – Design, manufacture, maintenance, safety requirements and test methods);
ABNT NBR 16746 – Segurança de máquinas – Manual de Instruções – Princípios gerais de elaboração – (Machine safety – Instruction Manual – General elaboration principles);
ABNT NBR 13759 – Segurança de máquinas – Equipamentos de parada de emergência – Aspectos funcionais – Princípios para projeto – (Machine safety – Emergency stop equipment – Functional aspects – Design principles);
ABNT NBR ISO 14121-2 – Segurança de máquinas – Apreciação de riscos – (Machine safety – Risk assessment);
ABNT NBR 14276 – Brigada de incêndio – Requisitos – (Fire Brigade – Requirements);
Protocol – Guidelines American Heart Association;
ISO 10015 – Gestão da qualidade – Diretrizes para treinamento – (Quality management – Training guidelines);
ISO 45001 – Sistemas de gestão de saúde e segurança ocupacional – Requisitos com orientação para uso – (Occupational health and safety management systems – Requirements with guidance for use);
Note: This Service exclusively meets the requirements of the MTE (Ministry of Labor and Employment) when dealing with other bodies, inform in the act of request.

Lift Platform Operator Course
Carga horária e Atualização
Lift Platform Operator Course
Inexperienced Participants:
Minimum credit hours = 08 hours/class
Experienced Participants:
Minimum credit hours = 04 hours/class
Update (Recycling):
Minimum credit hours = 04 hours/class
Update (Recycling): The employer must carry out periodic Biennial training and whenever any of the following situations occur:
a) change in work procedures, conditions or operations;
b) event that indicates the need for new training;
c) return from work leave for a period exceeding ninety days;
d) change of company;
e) Exchange of machine or equipment.
Lift Platform Operator Course
Complementos
Lift Platform Operator Course
Our pedagogical project follows the guidelines imposed by Regulatory Standard nº1.
After payment is made, Purchase Order, Contract signed between the parties, or other form of closing confirmation, the teaching material will be released within 72 working hours (up to 9 days), due to the adaptation of the syllabus and compliance with the Standards Techniques applicable to the scenario expressed by the Contracting Party; as well as other adaptations to the didactic material, carried out by our Multidisciplinary Team for technical language according to the student's nationality and Technical Operational and Maintenance Instruction Manuals specific to the activities that will be carried out.
Attention: The Course teaches how to Apply the normative concepts of the standard, which enables you to sign Projects, Reports, Expertise etc. these are the attributions that the (a) Legally Qualified Professional has with their Class Council, such as CREA.
This course aims to study situations where it will be necessary to apply: Concepts and Calculations according to relevant Standards and does not replace the analysis and responsibility on the part of each professional accredited by CREA or other Class Councils in the most varied situations, where makes it imperative to respect the conservation conditions of the equipment, periodic checking of the instruments, such as respect for the primary capacity predetermined by the PPE manufacturers, among others based on the corresponding Standards.
Certificate: The Certificate will be issued to each participant who reaches the minimum achievement of 70% (theoretical and practical) as recommended by the Regulatory Standards.
Criteria for Training or Updating Certificates:
Our certificates are numbered and issued in accordance with the Regulatory Standards and applicable devices:
Issue of A.R.T. (Technical Responsibility Note);
Employee's full name and identity document;
Program content;
Workload; City, place and date of the training;
Name, identification, signature and qualification of instructor(s);
Name, identification and signature of the technical person responsible for the training;
Name and qualification of our Qualified Professional;
Specification of the type of work;
Space for the trainee's signature;
Information on the Certificate that the participants received an e-book containing teaching material (Handbook, Videos, Rules etc.) presented in the training.
Training Evidence: Edited video, photos, digitized documentation, continuous improvement, instructor opinion: Consult values.
Heads up:
EAD (Distance Learning), Semi-presential The EAD Certificate also known as Online, according to LAW No. 9,394, OF DECEMBER 20, 1996. can be used for: Complementary Activities; company valuations; Public Tenders; University Extension; Extracurricular hours; Improved chances of getting a job; Recruitment processes; Internal promotions; Title Evidence; Doctoral selections; Master's Selections; Enter other opportunities. 100% Distance Learning Course (Distance Learning) or Semi-attendance needs a Pedagogical Project is only valid for the Employer, if you follow in full the  SEPRT Ordinance No. 915, of July 30, 2019  –  NR 01 –  General Provisions of the Special Secretariat of Pension and Work. click here
The rationale for the Price and Value relationship:
The pricing of any service requires expertise related to the business world and the concept of Value is qualitative, directly linked to the potential for transformation that exists in that content. The service has more value when it has added professional knowledge and secrets and the price is a variable that is a consequence of the value, whose objective is to transmit it in numbers. Thus, the greater the value added to the content, the greater its fair price. Therefore, we do not authorize the use of our Proposals as proof of closing with third parties with a lower price, or of secondary interest, Quality, Safety, Efficiency and Excellence, in every sense, are our values.
Causes of Work Accident:
Lack of alert from the employer;
Lack of employee care;
Even carrying out all the mandatory Training and Occupational Health and Safety Reports in the event of an accident at work, the employer will be subject to processes such as:
Police Inquiry – Civil Police;
Expertise through Instituto Criminalista;
Verification procedure at the Regional Labor Office;
Public Civil Inquiry before the Public Ministry of labor to verify that other workers are not in danger;
The INSS will question the cause of the accident that could be avoided and refuse to pay the benefit to the employee;
Family members may file a lawsuit in the Labor Court claiming pain and suffering, material damage, dislocation, etc.;
Procedural Tsunami forcing the Employer to generate a Defense Strategy even though it is right;
Although the Labor Delegation Law does not provide that "culpa en vigilando" applies, but only the responsibility to deliver the equipment, however it is worth emphasizing that the Employer is also responsible for overseeing;
When an accident occurs, in addition to destroying all the "good mood" in the relations between employees or also the very serious problem of defending yourself against a series of procedures at the same time, then it is worth investing in this prevention;
The Employee may not carry out activities exposed to risks that could compromise their safety and health, thus the Employer may respond in the criminal and civil spheres.
LAW No. 5.194, OF 24 DEC 1966 – CONFEA:
"Section III
Illegal exercise of profession
Art. 6 – Illegally exercises the profession of engineer, architect or agronomist:
a) the natural or legal person who performs acts or provides services, public or private, reserved for the professionals dealt with in this Law and who do not have registration in the Regional Councils:
b) the professional who undertakes activities outside the attributions listed in his/her registration;
c) the professional who lends his name to persons, firms, organizations or companies performing works and services without his real participation in their work;
d) the professional who, suspended from exercising, continues in activity;
e) the firm, organization or society that, as a legal entity, exercises duties reserved for professionals in Engineering, Architecture and Agronomy, in breach of the provisions of the sole paragraph of Article 8 of this Law."
Lift Platform Operator Course
Saiba mais
Know more about: Lift Platform Operator Course
18.12.32 No caso de utilização de plataforma de chassi móvel, este deve ficar devidamente nivelado, patolado ou travado no início da montagem das torres verticais de sustentação da plataforma, permanecendo dessa forma durante o seu uso e desmontagem.
Plataforma elevatória móvel de trabalho – PEMT
18.12.33 Os requisitos de segurança e as medidas de prevenção, bem como os meios para a sua verificação, para as plataformas elevatórias móveis de trabalho destinadas ao posicionamento de pessoas, juntamente com as suas ferramentas e materiais necessários nos locais de trabalho, devem atender às normas técnicas nacionais vigentes.
18.12.34 A PEMT deve atender às especificações técnicas do fabricante quanto à aplicação, operação, manutenção e inspeções periódicas.
18.12.35 A PEMT deve ser dotada de:
a) dispositivos de segurança que garantam seu perfeito nivelamento no ponto de trabalho, conforme especificação do fabricante;
b) alça de apoio interno;
c) sistema de proteção contra quedas que atenda às especificações do fabricante ou, na falta destas, ao disposto na NR-12;
d) botão de parada de emergência;
e) dispositivo de emergência que possibilite baixar o trabalhador e a plataforma até o solo em caso de pane elétrica, hidráulica ou mecânica;
f) sistema sonoro automático de sinalização acionado durante a subida e a descida;
g) proteção contra choque elétrico;
h) horímetro.
18.12.36 A manutenção da PEMT deve ser efetuada por pessoa com capacitação específica para a marca e modelo do equipamento.
18.12.37 Cabe ao operador, previamente capacitado pelo empregador, realizar a inspeção diária do local de trabalho onde será utilizada a PEMT.
Fonte: NR 18.
18.12.32 If a mobile chassis platform is used, it must be properly leveled, padded or locked at the beginning of the assembly of the platform's vertical support towers, remaining that way during its use and disassembly.
Mobile work platform – PEMT
18.12.33 The safety requirements and preventive measures, as well as the means for their verification, for mobile work platforms intended for the positioning of people, together with their tools and materials needed in the workplace, must comply with to current national technical standards.
18.12.34 The PEMT must meet the manufacturer's technical specifications regarding application, operation, maintenance and periodic inspections.
18.12.35 The PEMT must have:
a) safety devices that guarantee perfect leveling at the work point, as specified by the manufacturer;
b) internal support strap;
c) fall protection system that meets the manufacturer's specifications or, in the absence of these, the provisions of NR-12;
d) emergency stop button;
e) emergency device that makes it possible to lower the worker and the platform to the ground in case of an electrical, hydraulic or mechanical failure;
f) automatic audible signaling system activated during ascent and descent;
g) protection against electric shock;
h) hourmeter.
18.12.36 The maintenance of the PEMT must be carried out by a person with specific training for the brand and model of the equipment.
18.12.37 It is up to the operator, previously trained by the employer, to carry out the daily inspection of the workplace where the PEMT will be used.
Source: NR 18.
Lift Platform Operator Course: Consult us.
Promoção Relâmpago - Até 70% de desconto!
Curso NR 10 Básico em EAD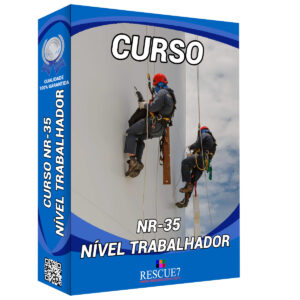 Curso NR-35 - Nível Trabalhador
Curso Como Elaborar Projeto de Linha de Vida - Nível Básico
Curso Espaço Confinado - Autorizados e Vigias NR 33