Technical Name: NR 10 Basic Safety in Installations and Services in Electricity Training Course
We provide courses and training; We perform Translations and Versions in Technical Language: Portuguese, English, Spanish, French, Italian, Mandarin, German, Russian, Swedish, Dutch, Hindi, Japanese and consult to others.
NR 10 Basic Course
The Basic NR 10 Course addresses the minimum requirements and conditions for the implementation of control measures and preventive systems, in order to ensure the safety and health of workers who, directly or indirectly, interact in electrical installations and services with energy electrical.
What is NR 10?
NR 10 applies to the generation, transmission, distribution and consumption phases, comprising the stages of design, construction, assembly, operation, maintenance of electrical installations and any works carried out in its surroundings, subject to the official technical standards established by Organs competent bodies authorities and, in their absence or omission, the applicable international standards.
When is the NR 10 SEP (Electrical Power System and its Proximities) Training mandatory?
Two-Phase or Three-Phase Connection without Transformer: Only NR 10 Basic Training (Safety in Installations and Services with Electricity) is required. Any connection that has a Transformer is considered (Electrical Power System), therefore the NR 10 SEP Training (Electrical Power System and Its Proximities) is mandatory. Up to 13.5 kV (kilovolts) is considered medium voltage, above 13.501 Volts is considered high voltage. Above 75 kVA the PIE (Electrical Installation Record) is mandatory, as recommended by NR 10.
OUR DIFFERENTIAL:
(a) The Instructors are Engineers who master the Technical languages in Portuguese, German and English, Mandarin, Spanish, among others with international know-how and active Passports.
We do not work with interpreters, as they are matters of technical engineering levels, their version, interpretation and translation without engineering training can be harmed, inducing serious misunderstandings.
(b) All Professionals have mandatory Occupational Safety Training NR 10, NR 35, NR 33, NR 12, among others, updated and valid.
(c) Upon completion, certificates of participation and achievement will be issued, signed with electronic digital signatures by legally qualified professionals with active CREA:
Work Safety Engineer (Technical Responsible) with active CREA /ART;
Engineer. Electric/Sec. Work (Instructor) with active CREA /ART;
Occupational Physician with active CRM;
Technical Instructor for Fire Fighting, First Aid and Chemical Emergencies;
Click on the Link: Criteria for Issuing Certificates in accordance with the Norms
Não perca tempo, solicite SUA proposta agora mesmo!
Conteúdo Programatico Normativo
NR 10 Basic Course
Normative Programmatic Content:
I – For authorized workers:
minimum workload – 40h:
Minimum Schedule:
Introduction to safety with electricity.
Risks in electrical installations and services:
a) electric shock, mechanisms and effects;
b) electric arcs; burns and falls;
c) electromagnetic fields.
Risk Analysis Techniques.
Electrical Risk Control Measures:
a) de-energizing.
b) functional grounding (TN / TT / IT); of protection; temporary;
c) equipotentialization;
d) automatic feeding sectioning;
e) leakage current devices;
f) extra-low voltage;
g) barriers and enclosures;
h) blocks and impediments;
i) obstacles and bulkheads;
j) isolation of live parts;
k) double or reinforced insulation;
l) out of reach placement;
m) electrical separation.
Brazilian Technical Standards – NBR of ABNT: NBR-5410, NBR 14039 and others;
MTE regulations:
a) NRs;
b) NR-10 (Safety in Installations and Services with Electricity);
c) qualification; training and authorization.
Collective protection equipment.
Equipments for individual safety.
Work routines – Procedures.
a) de-energized facilities;
b) release for services;
c) signaling;
d) inspections of areas, services, tools and equipment;
Documentation of electrical installations.
Additional risks:
a) height;
b) confined environments;
c) classified areas;
d) humidity;
e) atmospheric conditions.
Fire protection and fire fighting:
a) basics;
b) preventive measures;
c) extinction methods;
d) practice;
Accidents of electrical origin:
a) direct and indirect causes;
b) case discussion;
First aid:
a) notions about injuries;
b) prioritization of care;
c) application of artificial respiration;
d) cardiac massage;
e) techniques for the removal and transport of casualties;
f) practices.
Responsibilities.
Complements for Machines and Equipment when applicable:
Awareness of Importance:
Machine or Equipment Operation Instruction Manual;
Machine or Equipment Inspection and Maintenance Plan following NR 12;
Technical Report with ART of the Machine or Equipment according to NR 12;
NR 10 Electrical Tests;
Tagging of Machines and Equipment;
RETROFIT – Modernization Process;
Daily Checklist;
Punctual or cyclical maintenance.
Activity Complements:
Awareness of Importance:
APR (Preliminary Risk Analysis);
PAE (Emergency Action Plan);
PGR (Risk Management Plan);
Understanding the need for the Rescue Team;
The importance of knowledge of the task;
Accident prevention and first aid notions;
Fire protection;
Perception of risks and factors that affect people's perceptions;
Impact and behavioral factors on safety;
Fear factor;
How to find the fastest and easiest way to develop Skills;
How to control the mind while working;
How to administer and manage working time;
Why balance energy during activity in order to obtain productivity;
Consequences of Habituation of Risk;
Work accident causes;
Notions about the Tree of Causes;
Notions about Fault Tree;
Understanding Ergonomics;
Job Analysis;
Ergonomic Hazards;
Hazard Communication Standard (HCS) – OSHA;
Practical exercises:
Registration of Evidence;
Theoretical and Practical Assessment;
Certificate of participation.
NOTE:
We emphasize that the General Normative Programmatic Content of the Course or Training may be altered, updated, adding or excluding items as needed by our Multidisciplinary Team.
Our Multidisciplinary Team may update, adjust, alter and/or exclude items, as well as insert or exclude Standards, Laws, Decrees or technical parameters they deem applicable, whether related or not, and the Contractor will be responsible for making the due attentions in what the pertinent Legislations dispose.
NR 10 Basic Course
Referências Normativas
Carga horária e Atualização
Complementos
Saiba mais
Promoção Relâmpago - Até 70% de desconto!
Curso NR 10 Básico em EAD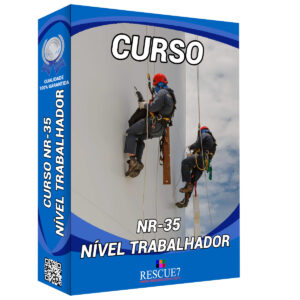 Curso NR-35 - Nível Trabalhador
Curso Como Elaborar Projeto de Linha de Vida - Nível Básico
Curso Espaço Confinado - Autorizados e Vigias NR 33