Curso NR 10 Básico em Inglês
Technical Name: NR 10 Basic Training - Safety in Facilities and Services with Electricity
We provide courses and training; We carry out Translations and Interpretations in Technical Language: Portuguese, English, Spanish, Mandarin, German, Hindi, Japanese, Arabic and others consult
NR 10 Basic Training
The NR 10 Basic Course addresses the minimum requirements and conditions aiming at the implementation of control measures and preventive systems, so as to guarantee the safety and health of workers who, directly or indirectly, and interact in electrical installations and services with electricity.
What is NR 10?
NR 10 applies to the generation, transmission, distribution and consumption phases, including the stages of design, construction, assembly, operation, maintenance of the electrical installations and any work carried out in its vicinity, observing the official technical standards established by the organs competent authorities and, in their absence or omission, the applicable international standards.  
When is NR 10 SEP Training (Electric Power System and its Proximities) mandatory?
Two-Phase or Three-Phase Connection without Transformer: Only Basic NR 10 Training (Safety in Installations and Services with Electricity) is required.
Any connection that has a Transformer is considered (Electric Power System), therefore the NR 10 SEP Training (Electric Power System and Its Proximities) is mandatory.
Up to 13.5 kV (kilovolts) is considered medium voltage, above 13,501 Volts is considered high voltage.
Above 75 kVA (kilovoltampere) the PIE (Electrical Installation Record) is mandatory, as recommended by NR 10.
Não perca tempo, solicite uma proposta agora mesmo!
Conteúdo Programatico
NR 10 Basic Training
Minimum Schedule:
Introduction to safety with electricity.
Risks in installations and services with electricity:
A) electric shock, mechanisms and effects;
B) electric arcs; Burns and falls;
C) electromagnetic fields;
Risk Analysis Techniques;
NR 10 Basic Training:
Course NR 10 Basic
Measures Control of the Electrical Risk:
A) de-energization;
B) functional grounding (TN / TT / IT); of temporary protection;
C) equipotentiation;
D) automatic power disconnection;
E) leakage current devices;
F) extra low voltage;
G) barriers and enclosures;
H) blockages and impediments;
I) obstacles and bulkheads;
J) isolation of living parts;
K) double or reinforced insulation;
L) placement out of reach;
M) electrical separation.
NR 10 Basic Training addresses the following Brazilian Technical Standards: NBR-5410, NBR 14039 and others;
MTE regulations:
A) NRs;
B) NR-10 Training (Safety in Installations and Services with Electricity);
C) Qualification; Training and authorization;
Collective protection equipment (CPE);
Personal protective equipment (PPE);
Work routines – Procedures:
(A) de-energized installations;
B) release for services;
C) signaling;
D) inspections of areas, services, tools and equipment;
NR 10 Basic Training:
Documentation of electrical installations;
Additional risks:
A) the height;
B) confined environments;
C) classified areas;
D) humidity;
E) atmospheric conditions.
Protection and fire fighting:
A) Basics;
B) preventive measures;
C) extinction methods;
D) practice;
NR 10 Basic Training:
Accidents of electrical origin:
A) direct and indirect causes;
B) discussion of cases;
First aid:
A) notions of injury;
B) prioritization of care;
C) application of artificial respiration;
D) cardiac massage;
E) techniques for removal and transportation of injured people;
F) practices.
Responsibilities.
Complements for Machines and Equipment when applicable:
Awareness of Importance:
Machine or Equipment Operation Instruction Manual;
Inspection and Maintenance Plan for the Machine or Equipment according to NR 12;
Technical Report with ART of the Machine or Equipment according to NR 12;
END (Non-Destructive Testing) according to NR 12;
Electrical Tests NR 10;
Activity Complements:
Awareness of Importance:
PRA (Preliminary Risk Analysis);
EAP (Emergency Action Plan;
RMP (Risk Management Plan);
Understanding the need for the Rescue Team;
The importance of knowledge of the task;
Prevention of accidents and notions of first aid;
Fire protection;
Perception of risks and factors that affect people's perceptions;
Impact and behavioral factors on safety;
Fear factor;
How to discover the fastest and easiest way to develop Skills;
How to control the mind while working;
How to manage working time;
Why balance energy during activity in order to obtain productivity;
Consequences of Risk Habituation;
Causes of accidents at work;
Understanding Tree of Causes;
Understanding Fault Tree;
Understandings on Ergonomics;
Workstation Analysis;
Ergonomic Risks;
Practical Exercises;
Evidence Record;
Theoretical and Practical Evaluation;
Certificate of participation.
NR 10 Basic Training
Referências Normativas
Normative references when applicable to applicable devices and their updates:
NR 10 – Security in Installations and Services in Electricity;
ABNT NBR 5410 – Low Voltage Electrical Installations;
ABNT NBR 5419 – Protection of Structures against Atmospheric Electric Discharges;
ABNT NBR 14039 – Medium Voltage Electrical Installations from 1.0 kV to 36.2 kV;
ABNT NBR 15749 – Measurement of Potential Grounding Resistance on the Ground Surface in Grounding Systems;
Protocol – Guidelines American Heart Association;
ISO 45001 – Occupational health and safety management systems – Requirements with guidance for use;
Note: This Service exclusively meets the requirements of the Special Secretariat for Social Security and Labor (SEPRT); when dealing with services to other agencies, inform at the time of request.

NR 10 Basic Training
Carga horária e Atualização
NR 10 Basic Training
Participants without experience:
Minimum working load = 40 hours / class
Participants with experience:
Minimum working load = 40 hours/class
Update (Recycle):
Minimum working load = 20 hours/class
Update (Recycle):
NR 10 Item 10.8.8.2 Biennial recycling training shall be conducted and whenever any of the following occur:
a) change of position or change of company;
b) return to work or inactivity for a period exceeding three months;
c) significant modifications in the electrical installations or exchange of methods, processes and work organization.
NR 10 Basic Training
Complementos
NR 10 Basic Training
Attention: The Course teaches you to apply the normative concepts of the standard, which enables you to sign Projects, Reports, Expertise etc. these are the duties that the Legally Qualified Professional has with his Class Council, for example, CREA.
This course aims to study situations where it will be necessary to apply: Concepts and Calculations according to the relevant Standards and does not replace the analysis and responsibility on the part of each professional accredited with CREA or other Class Councils in the most varied situations, where makes it absolutely necessary to respect the conditions of conservation of the equipment, periodic checking of the instruments, as well as the respect of primary capacity pre-determined by the PPE manufacturers, among others based on the corresponding Norms.
Certificate: The Certificate will be issued to each participant who achieves a minimum of 70% (theoretical and practical) in accordance with the Regulatory Standards.
Criteria of Training or Update Certificates:
Our certificates are numbered and issued in accordance with the Regulatory Standards and applicable devices:
Issuance of A.R.T. (Annotation of Technical Responsibility);
Employee's full name and identity document;
Program content;
Workload; City, place and date of the training;
Name, identification, signature and qualification of the instructor (s);
Name, identification and signature of the technician responsible for the training;
Name and qualification of our Qualified Professional;
Specification of the type of work;
Space for signing the trainee;
Information on the Certificate that the participants received an e-book containing didactic material (Handout, Videos, Standards etc.) presented in the training.
Training Evidence: Edited video, photos, digitalized documentation, continuous improvement, instructor's opinion: Consult values.
Attention:
EAD (Distance Learning), Semi-face-to-face The EAD Certificate also known as Online, according to LAW No. 9,394, OF DECEMBER 20, 1996. can be used for: Complementary Activities; Company valuations; Public tenders; University Extension; Extracurricular hours; Improved chances of getting a job; Recruitment processes; Internal promotions; Title Evidence; Doctoral selections; Master's selections; You get other opportunities. Course 100% EAD (Distance Learning) or Semi-face-to-face needs a Pedagogical Project only valid for the Employer, if it follows in full the SEPRT Ordinance No. 915, of July 30, 2019 – NR 01 – General Provisions of the Special Secretariat of Social Security and Labor. click here Clique aqui
Understand the relationship between Price and Value:
Performing a task as strategic as pricing a Service requires knowledge of the business world.
Two fundamental concepts to understand how to price are the definitions of Price and Value.
Value is a qualitative concept, and it is linked to the transformative potential of that content.
A course is more valuable when it adds more knowledge to the target audience.
Price is a consequence of value.
Because it is an essentially quantitative concept, it is responsible for "translating" the value into a number.
Therefore, the greater the value added to the content, the higher the fair price.
Causes of Work Accidents:
Lack of alert by the employer;
Lack of employee care;
Even carrying out all mandatory Training and Reports on Occupational Health and Safety in the event of an accident at work, the employer will be subject to Processes such as:
Police Inquiry – Civil Police;
Expertise through the Criminalist Institute;
Verification procedure with the Regional Labor Office;
Public Civil Inquiry before the Public Ministry of Labor to verify that the other workers are not in danger;
The INSS will question the cause of the accident that could be avoided and refuse to pay the benefit to the employee;
Family members may file a lawsuit in the Labor Court claiming moral, material, dislocation damages, etc .;
Procedural Tsunami forcing the Employer to generate Defense Strategy even if he is right;
Although the Labor Delegation Law does not provide that "guilt en vigilando" applies, but only the responsibility of delivering the equipment, however it is worth stressing that the Employer is also responsible for monitoring;
When an accident occurs in addition to destroying all the "good humor" in the relationships between employees or also the very serious problem of defending yourself from a series of procedures at the same time, then it is worth investing in this prevention;
The Employee cannot carry out activities exposed to risks that could compromise his safety and health, so the Employer can respond in the criminal and civil spheres.
LAW No. 5,194, OF 24 DEC 1966 – CONFEA:
"Section III
Illegal Exercise of Profession
Art. 6 – Is illegally practicing the profession of engineer, architect or agronomist:
a) the natural or legal person who performs acts or provides services, public or private, reserved for the professionals referred to in this Law and who does not have registration with the Regional Councils:
b) the professional who undertakes activities that are foreign to the attributions described in his record;
c) the professional who lends his name to people, firms, organizations or companies executing works and services without his real participation in their work;
d) the professional who, suspended from his practice, continues to work;
e) the firm, organization or company that, as a legal entity, performs duties reserved for professionals in Engineering, Architecture and Agronomy, in violation of the provisions of the sole paragraph of Article 8 of this Law. "
NR 10 Basic Training
Saiba mais
Know More – NR 10 Basic Training:
"NR 10 – SAFETY IN ELECTRICAL INSTALLATIONS AND SERVICES
"10.2.1 In all interventions in electrical installations, preventive measures to control electrical risk and other additional risks must be adopted, using risk analysis techniques, in order to guarantee safety and health at work.
10.2.2 The control measures adopted should be integrated with other company initiatives, in the context of preserving safety, health and the work environment.
10.2.3 Companies are obliged to maintain up-to-date single-line diagrams of the electrical installations of their establishments with the specifications of the grounding system and other protective equipment and devices.
10.2.4 Establishments with an installed load of more than 75 kW shall constitute and maintain the Electricity Installations Register, containing, in addition to the provisions of sub-item 10.2.3, at least:
a) set of technical and administrative procedures and instructions for safety and health, implemented and related to this NR and description of existing control measures;
b) documentation of the inspections and measurements of the protection system against atmospheric discharges and electrical landfills;
c) specification of collective and individual protection equipment and tooling, applicable as determined by this NR;
d) documentation proving the qualification, qualification, qualification, authorization of the workers and the training;
e) results of electrical insulation tests performed on individual and collective protection equipment;
f) certifications of electrical equipment and materials in classified areas;
g) technical report of the updated inspections with recommendations, schedules of adjustments, contemplating the items "a" to "f".
10.2.5 Companies operating in installations or equipment that are part of the electric power system shall constitute a record of the contents of item 10.2.4 and add to the medical record the following documents:
a) description of emergency procedures;
b) certifications of collective and individual protection equipment;
10.2.5.1 Companies carrying out work in the vicinity of the Electric Power System shall constitute a chart containing items "a", "c", "d" and "e" of item 10.2.4 and items "a" and "b "Of item 10.2.5.2
10.2.6 The Electrical Worksheet shall be organized and kept updated by the employer or person formally designated by the company and shall remain at the disposal of the workers involved in the facilities and services in electricity.
10.2.7 The technical documents provided for in the Electrical Installations Register must be prepared by a legally qualified professional.
10.2.8 – MEASURES OF COLLECTIVE PROTECTION
10.2.8.1 In all the services performed in electrical installations, collective protection measures applicable, through procedures, to the activities to be developed, in order to guarantee the safety and the health of the workers should be foreseen and adopted, as a matter of priority.
10.2.8.2 The collective protection measures include, as a priority, the electrical deenergization as established in this NR and, in its impossibility, the use of safety voltage.
10.2.8.2.1 If it is not possible to implement the provisions of subitem 10.2.8.2., Other collective protection measures should be used, such as: insulation of live parts, obstacles, barriers, signaling, automatic power disconnection system, automatic reclosing.
10.2.8.3 Grounding of electrical installations shall be carried out in accordance with regulations established by the competent bodies and, in the absence thereof, shall comply with current International Standards.
10.2.9 – MEASURES OF INDIVIDUAL PROTECTION
10.2.9.1 In works in electrical installations, where collective protection measures are technically infeasible or insufficient to control risks, specific personal protective equipment appropriate to the activities developed must be adopted, in compliance with the provisions of NR 6.
10.2.9.2 Work clothing shall be appropriate to the activities and shall include conductivity, flammability and electromagnetic influences.
10.2.9.3 The use of personal adornments is prohibited in works with or near electrical installations."
Source: NR 10
NR 10 Basic Training: Contact-us.
Promoção Relâmpago - Até 70% de desconto!
Curso NR 10 Básico em EAD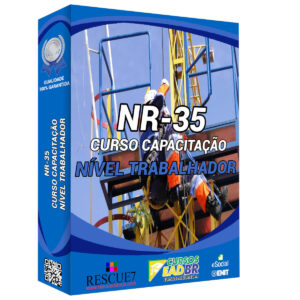 Curso NR-35 - Nível Trabalhador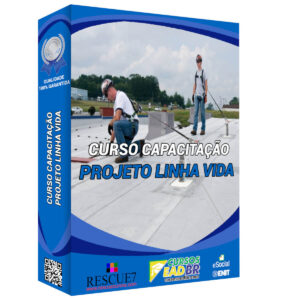 Curso Como Elaborar Projeto de Linha de Vida
Curso Espaço Confinado - Autorizados e Vigias NR 33