Curso Trabalho a Quente Nível Trabalhador em Inglês
Technical Name: Basic Safety Course for Hot Work - Worker Level
We provide courses and training; We carry out Translations and Versions in Technical Language: Portuguese, English, Spanish, French, Italian, Mandarin, German, Russian, Swedish, Dutch, Hindi, Japanese and others consult.
Hot Work Worker Level Course
The purpose of the Hot Work Course provides safety for welding, gouging, cutting or other activities that may generate ignition sources, such as heating, spark or flame.
What is Hot Work?
Hot Work is a process generated from an ignition source, such as brazing cuts, grinding, among others, it is usually an activity carried out in environments that have a risk of fire or explosions.
Specific risk analysis for hot work must be prepared when:
a) there are combustible or flammable materials in the surroundings;
b) is carried out in an area without prior isolation and not intended for this purpose.
Types of Hot Work:
Emery;
Brazing;
Gouging;
Welding;
Ignition;
Heating;
Cut;
Spark and Flame.
Click on the Link: Criteria for Issuing Certificates in accordance with the Norms
Certificado

Hours: 16 Hours

Prerequisite: Literacy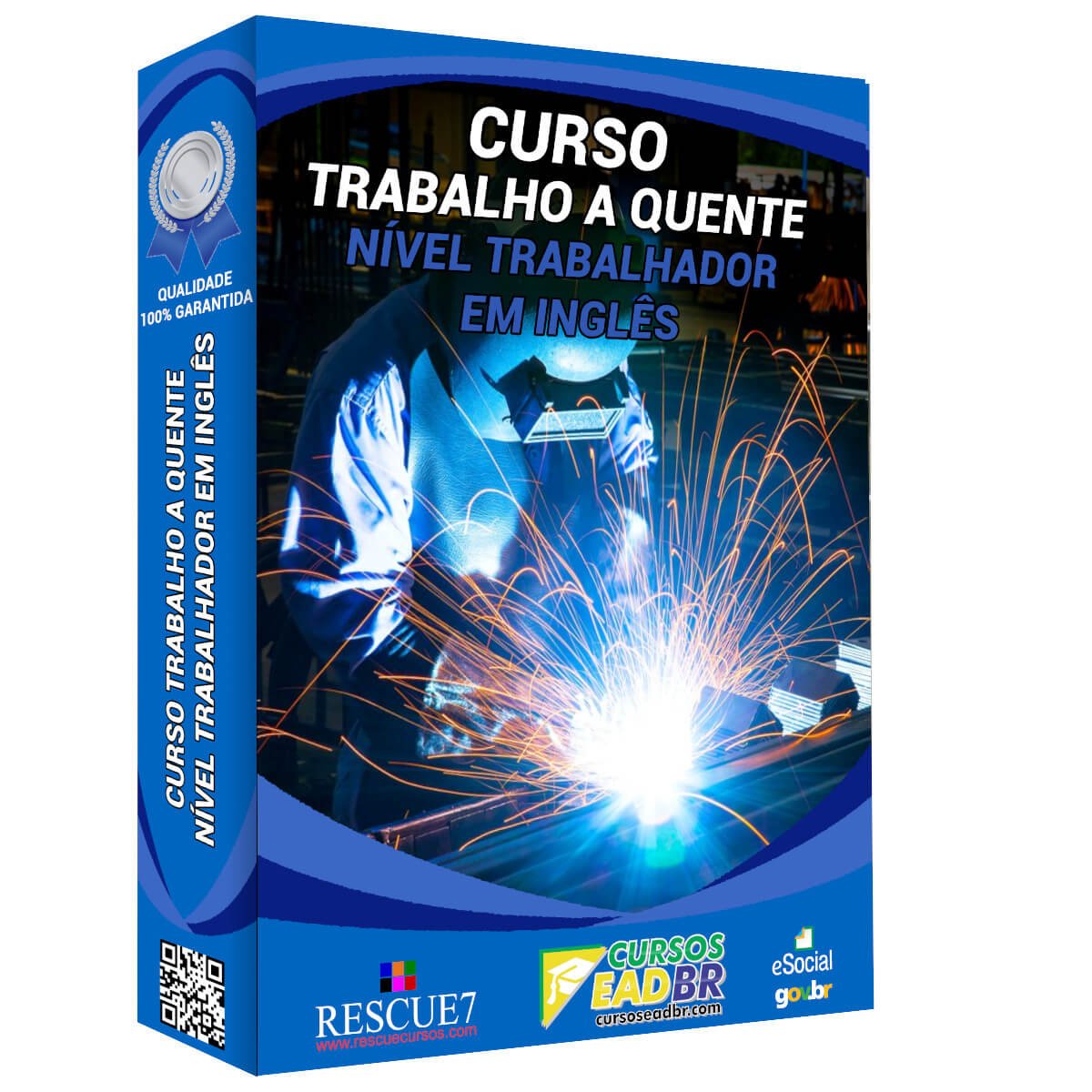 Conteúdo Programatico Normativo
Referências Normativas
Carga horária e Atualização
Complementos
Saiba mais
Conteúdo Programatico Normativo
Hot Work Worker Level Course
Hot work:
Welding activities;
Gouging, grinding;
Cut or others that can generate ignition sources;
Heating, spark or flame;
Specific risk analysis:
Combustible or flammable materials;
Area without prior isolation;
Surveillance of hot work activity;
Observer worker;
Fire prevention and fighting:
Preliminary inspection;
Workplace and adjacent areas:
Clean, dry and free from combustible, flammable, toxic and contaminating agents;
Absence of incompatible activities;
Eliminate or keep under control possible fire hazards;
Install fire, splash, heat, spark or sludge protection;
Contact with combustible or flammable materials;
Interference with parallel activities or the movement of people;
Keep the fire fighting system unobstructed;
Control of fumes and contaminants;
Provide air renewal in closed environments;
Eliminate gases, vapors and fumes used and/or generated during hot work;
Change in environmental conditions;
Hot work using gases:
Gases suitable for the application;
Determinations indicated in the Safety Information Sheet for Chemical Products – FISPQ;
Pressure regulators and calibrated manometers;
Compliance with the gas used;
Appropriate lighters;
Sparks and do not have a fuel tank;
Ignition of torch flame;
Oxyacetylene equipment;
Gas cylinders:
Kept in a vertical position and properly fixed;
Away from flames, sources of sparking, heat and flammable products;
Installed so as not to become part of an electrical circuit, even accidentally;
Transported in an upright position, with a screw-on helmet, using appropriate equipment, properly secured, avoiding collisions;
Kept with the valves closed and stored with the valve protector (threaded helmet), when inoperative or empty;
Cylinder valves closed;
Equipment and hoses inoperative;
Adoption of additional preventive measures;
Eliminate risks of explosion and worker intoxication
Activity Add-ons:
Awareness of Importance:
APR (Preliminary Risk Analysis);
PAE (Emergency Action Plan;
PGR (Risk Management Plan);
ORM (Occupational Risk Management);
Understanding the need for the Rescue Team;
The Importance of task knowledge;
Prevention of accidents and notions of first aid;
Fire protection;
Perception of risks and factors that affect people's perceptions;
Impact and behavioral factors on safety;
Fear factor;
How to discover the fastest and easiest way to develop Skills;
How to control the mind while working;
How to administer and manage working time;
Because balancing energy during activity in order to obtain productivity;
Consequences of Risk Habituation;
Causes of accidents at work;
Understanding the Cause Tree;
Understanding Fault Tree;
Understandings about Ergonomics;
Workplace Analysis;
Ergonomic Risks;
Hazard Communication Standard (HCS) – OSHA;
Practical Exercises:
Record of Evidence;
Theoretical and Practical Assessment;
Certificate of participation.
Our Multidisciplinary Team is allowed to insert norms, laws, decrees or technical parameters that they deem applicable, whether or not they are related to the scope of the negotiated service, with the Contracting Party being responsible for carrying out the necessary services in accordance with the legislation, as established in the same.
Hot Work Worker Level Course
Referências Normativas
Carga horária e Atualização
Hot Work Worker Level Course
Inexperienced participants:
Minimum workload = 40 hours/class
Experienced Participants:
Minimum workload = 16 hours/class
Update (Recycling):
Minimum workload = 08 hours/class
Update (Recycling): The employer must perform Periodic Training Annually and whenever any of the following situations occur:
a) change in work procedures, conditions or operations;
b) event that indicates the need for new training;
c) return from work leave for a period longer than ninety days;
d) change of company;
e) Exchange of machine or equipment.
Hot Work Worker Level Course
Complementos
Hot Work Worker Level Course
Our pedagogical project follows the guidelines imposed by Regulatory Norm nº1.
After the payment, Purchase Order, Contract signed between the parties, or another form of closing confirmation, the teaching material will be released within 72 working hours (up to 9 days), due to the adaptation of the syllabus and compliance with the Standards Techniques applicable to the scenario expressed by the Contracting Party; as well as other adjustments to the teaching material, carried out by our Multidisciplinary Team for technical language according to the student's nationality and Operational and Maintenance Technical Instruction Manuals specific to the activities to be carried out.
PDCA Cycle (Plan-Do-Check-Act)
The SSO management system approach applied in this document is based on the Plan-Do-Check-Act (Plan-Do-Check-Act) (PDCA) concept.
The PDCA concept is an iterative process used by organizations to achieve continuous improvement. It can be applied to a management system and each of its individual elements, as follows:
a) Plan: to determine and assess SSO risks, SSO opportunities, other risks and other opportunities, establish the SSO objectives and processes necessary to ensure results in accordance with the organization's SSO policy;
b) Do: implement the processes as planned;
c) Check: monitor and measure activities and processes in relation to the OH&S policy and OH&S objectives and report the results;
d) Act: take measures for continuous improvement of SSO performance, to achieve the intended results.
Attention: The Course teaches how to apply the normative concepts of the standard, which enables you to sign Projects, Reports, Expertise etc. are the attributions that the Legally Qualified Professional has with their Class Council, such as the CREA.
This course aims to study situations where it will be necessary to apply: Concepts and Calculations according to relevant Standards and does not replace the analysis and responsibility on the part of each professional accredited by CREA or other Class Councils in the most varied situations, where makes it imperatively necessary to respect the equipment conservation conditions, periodic measurement of the instruments, such as respect for the primary capacity predetermined by the PPE manufacturers, among others based on the corresponding Standards.
Certificate: The Certificate will be issued to each participant who reaches the minimum achievement of 70% (theoretical and practical) as recommended by the Regulatory Norms.
Criteria for Qualification or Update Certificates:
Our certificates are numbered and issued in accordance with Regulatory Standards and applicable provisions:
Issuance of A.R.T. (Technical Responsibility Note);
Full name of the employee and identity document;
Program content;
Workload; City, place and date of the training;
Name, identification, signature and qualification of the instructor(s);
Name, identification and signature of the technician responsible for the training;
Name and qualification of our Qualified Professional;
Specification of the type of work;
Space for signature of the trainee;
Information in the Certificate that the participants received an e-book containing didactic material (Apostille, Videos, Norms etc.) presented in the training.
Training Evidence: Edited video, photos, digitized documentation, continuous improvement, instructor's opinion: Consult values.
Occupational health and safety management systems – Requirements with guidance for use
Interested Party;
Stakeholder – Person or organization that can affect, be affected or perceive themselves to be affected by a decision or activity.
Heads up:
EAD (Distance Learning), Blended The EAD Certificate, also known as Online, according to LAW No. 9,394, OF DECEMBER 20, 1996. It can be used for: Complementary Activities; company appraisals; Public tenders; University Extension; Extracurricular hours; Improved chances of getting a job; Recruitment processes; Internal promotions; Title Evidence; Doctoral selections; Master selections; You enter other opportunities. 100% EAD (Distance Learning) or Semi-Present Course requires a Pedagogical Project is only valid for the Employer, if he/she follows in full the SEPRT Ordinance no. Pensions and Work. Click here.
The justification of the Price and Value relationship:
The pricing of any service requires expertise related to the business world and the concept of Value is qualitative, directly linked to the potential for transformation existing in that content. The service has more value when it has added professional knowledge and secrets and the price is a consequent variable of the value, whose objective is to transmit it in numbers. Thus, the greater the value added to the content, the greater its fair price. Therefore, we do not authorize the use of our Proposals as counter-proof of closing with third parties of a lower price, or of secondary interest, Quality, Safety, Efficiency and Excellence, in every way, are our values.
Causes of Work Accident:
Lack of notice from the employer;
Lack of employee care;
Even carrying out all Training and mandatory Occupational Health and Safety Reports in the event of an accident at work, the employer will be subject to Processes such as:
Police Inquiry – Civil Police;
Expertise through the Criminal Institute;
Investigation Procedure at the Regional Labor Office;
Public Civil Inquiry before the Public Ministry of Labor to verify that other workers are not in danger;
The INSS will question the cause of the accident that could have been avoided and refuse to pay the benefit to the employee;
Family members may file a lawsuit in the Labor Court claiming Moral, Material, Dislocation, etc.;
Procedural Tsunami forcing the Employer to generate Defense Strategy even though it is right;
Although the Labor Delegation Law does not provide that the "culpa en vigilando" applies, but only the responsibility to deliver the equipment, but it is worth emphasizing that the Employer is also responsible for monitoring;
When an accident occurs, in addition to destroying all the "good mood" in the relationships between employees or also the very serious problem of defending yourself from a series of procedures at the same time, then it is worth investing in this prevention;
The Employee may not carry out activities exposed to risks that may compromise his safety and health, so the Employer may respond in the criminal and civil spheres.
LAW No. 5,194, OF DECEMBER 24, 1966 – CONFEA:
"Section III
Illegal Exercise of the Profession
Art. 6 – Illegally exercising the profession of engineer, architect or agronomist:
a) the individual or legal entity that performs acts or provides services, public or private, reserved for professionals covered by this Law and who do not have registration in the Regional Councils:
b) the professional who is responsible for activities that are not related to the attributions described in his/her registration;
c) the professional who lends his name to people, firms, organizations or companies performing works and services without his real participation in their work;
d) the professional who, suspended from his practice, continues in activity;
e) the firm, organization or society that, as a legal entity, exercises attributions reserved for professionals in Engineering, Architecture and Agronomy, in breach of the provisions of the sole paragraph of Art. 8 of this Law."
Hot Work Worker Level Course
Saiba mais
Know more about: Hot Work Worker Level Course
18.4 Risk Management Program (RMP)
18.4.1 The elaboration and implementation of the PGR at construction sites are mandatory, contemplating occupational risks and their respective prevention measures.
18.4.2 The PGR must be prepared by a professional legally qualified in occupational safety and implemented under the responsibility of the organization.
18.4.2.1 On construction sites up to 7 m (seven meters) high and with a maximum of 10 (ten) workers, the PGR can be prepared by a qualified professional in occupational safety and implemented under the responsibility of the organization.
18.4.3 The PGR, in addition to contemplating the requirements provided for in NR-01, must contain the following documents:
a) project of the living area of ​​the construction site and any work front, in accordance with item 18.5 of this NR, prepared by a legally qualified professional;
b) electrical design of temporary installations, prepared by a legally qualified professional;
c) projects of collective protection systems prepared by a legally qualified professional; This text does not replace the one published in the DOU
d) Individual Fall Protection Systems (SPIQ) projects, when applicable, prepared by a legally qualified professional;
e) list of Personal Protective Equipment (PPE) and their respective technical specifications, according to existing occupational hazards.
18.4.3.1 The PGR must be updated according to the stage of the construction site.
18.4.4 The contracted companies must provide the contracting party with the inventory of occupational risks specific to their activities, which must be included in the PGR of the construction site.
18.4.5 The work fronts must be considered in the preparation and implementation of the PGR.
Source: NR 18.
Hot Work Worker Level Course: Consult-us.