Curso Resgatista NBR 16710 Operacional em Inglês
Technical Name: Operational Rescuer Course at Height and/or Confined Space NR 33 and NR 35 - NBR 16710-1
We provide courses and training; We carry out Translations and Versions in Technical Language: Portuguese, English, Spanish, French, Italian, Mandarin, German, Russian, Swedish, Dutch, Hindi, Japanese and others consult.
Operational Rescue Course NBR 16710
The initial level of rescue qualification specified for the second level, for which the person is eligible to participate in a limited range of rescue at height and/or in confined spaces, positioned from a surface that requires the person to travel safely through of individual protection systems for movement restriction, fall arrest and positioning for vertical movement of victims and rescuers, in scenarios using mechanical advantage mounted systems, pre-engineered or pre-assembled, manual or automatic rescue systems, it can also perform different progressions by means of rope, mechanical and electrical systems, specific for moving and rescuing people.
What is the role of the Operational Rescuer?
The qualified rescuer at the operational level is a qualified and trained person who works under the coordination of a person responsible for the rescue operation, whose main action is carried out in a rescue team with exclusive dedication or by people belonging to the company's own personnel, who integrate the emergency response groups formed in the industries.
What is Technical Rescue?
Rescue operational intervention carried out by the own rescue team, external or composed by the workers themselves, to rescue one or more people who are on duty in the work environments, victims of accidents due to work at heights and/or confined spaces, imprisoned and/ or exposed to a situation of imminent risk to their physical or emotional integrity, requiring the use of movement rescue equipment and techniques, which may include, but not necessarily, the application of first aid.
Click on the Link: Criteria for Issuing Certificates in accordance with the Norms
Não perca tempo, solicite SUA proposta agora mesmo!
Conteúdo Programatico Normativo
Operational Rescue Course NBR 16710
It is recommended that a person qualified as an operational level rescuer be trained to present a set of knowledge and skills determined to perform rescues at height and/or in confined space, as follows:
a) know the Brazilian Standards or procedures applied for the assessment, organization and execution of rescue measures at heights and/or in confined spaces:
b) work in rescue teams at heights and/or in confined spaces, of exclusive dedication. trained for emergency response in industries, through standardized operating procedures and established in a documented emergency response plan;
c) perform a limited range of rescues at height and/or in confined spaces positioned from a safe surface that requires displacement using your PPE and basic casualty movement. with or without stretchers, using basic mechanical advantage systems;
d) assemble, install and operate systems of simple mechanical advantage systems;
e) have knowledge of rope and stringing equipment for application in simple anchors and rescue systems of simple mechanical advantage:
f) perform access to the victim using rope progression techniques for ascent or descent;
g) perform basic movements of victims using vertical rescue stretchers;
h) install and operate pre-engineering systems according to training received and guidance from equipment manufacturers, when applicable;
i) inspect your equipment for personal use and equipment for collective use made available to the team to which you belong, as well as ensuring the record of your inspections:
j) use the available means of communication correctly. as well as the use of terminology used as a standard language for emergencies;
k) act under the coordination of a qualified person at the operational level, leader or team coordinator;
I) work in a work environment with limited exposure to risks inherent to rescue, from a surface that requires the use of pre-defined fall protection systems;
m) know how to assess existing risks during rescues and propose necessary control measures.
It is recommended that a person qualified as a rescuer at the operational level, in addition to training at this qualification level, meets the following prerequisites for the exercise of the rescuer function:
a) minimum schooling of complete elementary school;
b) first aid training, with content and workload compatible with the identified typical risk and accident scenarios.
4.2 Operational
To be qualified at the operational level, it is recommended to submit and evaluate the rescuer to theoretical and practical training, with a minimum load of 24 hours, meeting at least the following syllabus:
a) official regulatory standards and applicable Brazilian Standards;
b) safety principles of a rescue operation;
c) identification of the risks associated with a rescue operation;
d) risk versus benefit assessment in a rescue operation;
e) certification of rescue equipment and systems;
f) selection and correct use of the following personal rescue equipment:
parachute belt:
– slings or lanyards;
– connectors;
– helmet;
– gloves;
– descender;
– elevators;
– lock falls;
– stirrup;
g) installation and operation of pre-engineered rescue or evacuation systems:
h) selection and correct use of the following collective rescue equipment:
– anchor slings, ring, ribbons or beads;
– connectors;
– pulleys:
– blockers;
– apples;
– tripod;
– descenders;
– elevators;
i) assembly of the main stringing nodes used in rescues (blocking, finishing, splicing, anchoring and securing);
j) assembly of simple and semi-equalized anchors with string knots:
k) effect of the angles formed by the anchors on the distribution of loads:
I) assembly and operation of simple mechanical advantage systems (block):
m) pre-use and periodic inspections of individual and collective rescue equipment used;
n) identification of operational readiness or damage, defects and wear conditions for refusal of equipment that has been disapproved according to the manufacturers' instructions:
o) methods of cleaning, packaging and transporting rescue equipment;
p) conceptualization of the shock force generated by retaining a fall from a height;
q) concept of fall factor:
r) knowledge of how inert suspension trauma develops and its main therapeutic measures;
s) use of available means of communication. as well as the use of terminology used as standard language for emergencies;
t) techniques for immobilizing victims on stretchers. with or without the use of 'spine or limb mobilizers;
u) different types of vertical transport stretchers, as well as their compatibility with the type of operation or injury to the victim:
v) techniques for vertical movement of victims using pre-assembled, pre-engineered or automatic rescue and evacuation systems:
w) techniques for vertical movement of victims at height or in confined spaces using simple mechanical advantage systems;
x) basic stretcher handling techniques (vertical, horizontal and terrestrial);
y) basic rope progression techniques: ascent and descent;
z) technical factors that affect the efficiency of a rope and confined space rescue (eg performance, speed, range, duration, weather conditions, confined space environment, rescuer, etc.);
aa) techniques for the use of respiratory protective equipment applied in the rescue.
Activity Add-ons:
Awareness of Importance:
APR (Preliminary Risk Analysis);
PAE (Emergency Action Plan;
PGR (Risk Management Plan);
ORM (Occupational Risk Management);
Understanding the need for the Rescue Team;
The Importance of task knowledge;
Prevention of accidents and notions of first aid;
Fire protection;
Perception of risks and factors that affect people's perceptions;
Impact and behavioral factors on safety;
Fear factor;
How to discover the fastest and easiest way to develop Skills;
How to control the mind while working;
How to administer and manage working time;
Because balancing energy during activity in order to obtain productivity;
Consequences of Risk Habituation;
Causes of accidents at work;
Understanding the Cause Tree;
Understanding Fault Tree;
Understandings about Ergonomics;
Workplace Analysis;
Ergonomic Risks;
Hazard Communication Standard (HCS) – OSHA;
Practical Exercises:
Record of Evidence;
Theoretical and Practical Assessment;
Certificate of participation.
Our Multidisciplinary Team is allowed to insert norms, laws, decrees or technical parameters that they deem applicable, whether or not they are related to the scope of the negotiated service, with the Contracting Party being responsible for carrying out the necessary services in accordance with the legislation, as established in the same.
Operational Rescue Course NBR 16710
Referências Normativas
Carga horária e Atualização
Complementos
Saiba mais
Promoção Relâmpago - Até 70% de desconto!
Curso NR 10 Básico em EAD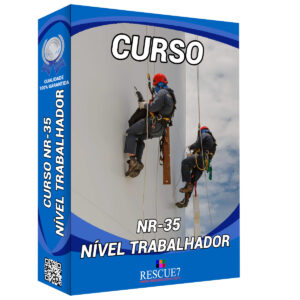 Curso NR-35 - Nível Trabalhador
Curso Como Elaborar Projeto de Linha de Vida - Nível Básico
Curso Espaço Confinado - Autorizados e Vigias NR 33