CBSP Curso Básico Segurança Plataforma Salvatagem em Inglês
Technical Name: Basic Platform Safety Training Course - Salvatagem CBSP
We provide courses and training; We carry out Translations and Versions in Technical Language: Portuguese, English, Spanish, French, Italian, Mandarin, German, Russian, Swedish, Dutch, Hindi, Japanese and others consult.
Safety Course Platform Salvatagem
The purpose of the Course is to establish safety/rescue procedures for teams working on offshore platforms, maintaining safety and the set of measures to be taken in emergency and rescue situations.
What is Salvage?
Action to safely remove people from the unit, sustain life at sea and transfer to a ship, another unit, helicopter, or even directly to land. It is also the action of collecting and safely removing people who have fallen overboard, returning them to the unit or to another safe place.
Types of lifesaving equipment:
Lifebuoys;
Floating seats;
Horseshoe lifebuoy;
Life jacket;
Rigid lifeguards;
Light and Retro Reflective Tape;
Pyrotechnic artifacts;
Survival and rescue boats;
Launching and boarding devices;
Boarding ladder among others.
Click on the Link: Criteria for Issuing Certificates in accordance with the Norms
Não perca tempo, solicite SUA proposta agora mesmo!
Conteúdo Programatico Normativo
Safety Course Platform Salvatagem
Objective;
Definitions, Administration and Training;
Theoretical program, simulated exercise and real exercise;
Emergency:
Fire, implosion and explosion;
Well eruption, Spill or flow of oil or gas;
Bad weather conditions, sea currents or movements of the sea floor that could affect the stability or positioning of the unit;
Accident involving aircraft;
Man fall overboard;
Death, illness or serious injury on board;
Collision against the unit;
Equipment failure that affects the safety of people and/or unit;
Accident involving radioactive material;
Accident involving diving operations;
Others, according to the particularity of each unit;
Evacuation, Abandonment and Rally Points;
Safety, Salvation and Unity;
Population:
Essential Residents and Non-essential Residents;
Visitors, Alarms, Emergency Alarm and Abandonment Alarm;
Action groups and emergency command;
Emergency control team and Fire Brigade;
Rescue boat crew, Lifeboat crew and Emergency/abandonment training:
Safety/salvage exercises;
Emergency drills, Evacuation drills, Abandon drills, Delayed abandon drills and Immediate abandon drills;
Tasks table;
In-flight training book;
Security plan, Support boat, rescue boat and rigid fireproof lifeboat;
Inflatable raft, Abandonment Plan, Abandonment Station and Escape Plan;
General conditions:
Instruction manual;
Task table and Alarm systems;
Training book:
Type of training (theoretical program or exercise);
Subject and Instructor;
Trained Personnel and Chronological data;
Signature of the person in charge and participants;
Security plan and Specific conditions;
Trainings:
Theoretical program:
Fire prevention and fighting;
Concepts, Detection and alarm equipment;
Fire fighting systems and Procedures;
Salvage:
Concepts, Theory of survival at sea and Rescue equipment;
Palaments and accessories and Procedures;
Breath protection:
Concepts and Physiology of the human body;
Contamination/respiratory hazards;
Respirators, Emergency, evacuation and abandonment;
Existing concepts and resources;
Alarms and action groups;
Instruction manual and work table;
Security Plan and Procedures;
Safety/salvage exercises:
Retainer rifle, Rescue boat and Rigid lifeboat;
Inflatable life raft/buoy and Life jacket;
Personnel transfer basket;
Pyrotechnic artifacts;
Fire fighting equipment;
Operational emergency control:
Emergency alarm;
Activation of automatic equipment (when possible);
Team meeting, Identification of the occurrence, equipment and area;
Definition of the occurrence control strategy;
Execution of operational maneuvers;
Arrangements for return to normal situation;
Standalone breathing sets:
Emergency exercise e Evacuation exercise;
Delayed dropout exercise;
Immediate abandonment exercise;
Inspection:
Training centers.
Activity Add-ons:
Awareness of Importance:
APR (Preliminary Risk Analysis);
PAE (Emergency Action Plan;
PGR (Risk Management Plan);
ORM (Occupational Risk Management);
Understanding the need for the Rescue Team;
The Importance of task knowledge;
Prevention of accidents and notions of first aid;
Fire protection;
Perception of risks and factors that affect people's perceptions;
Impact and behavioral factors on safety;
Fear factor;
How to discover the fastest and easiest way to develop Skills;
How to control the mind while working;
How to administer and manage working time;
Because balancing energy during activity in order to obtain productivity;
Consequences of Risk Habituation;
Causes of accidents at work;
Understanding the Cause Tree;
Understanding Fault Tree;
Understandings about Ergonomics;
Workplace Analysis;
Ergonomic Risks;
Hazard Communication Standard (HCS) – OSHA;
Practical Exercises:
Record of Evidence;
Theoretical and Practical Assessment;
Certificate of participation.
Our Multidisciplinary Team is allowed to insert norms, laws, decrees or technical parameters that they deem applicable, whether or not they are related to the scope of the negotiated service, with the Contracting Party being responsible for carrying out the necessary services in accordance with the legislation, as established in the same.
Safety Course Platform Salvatagem
Referências Normativas
Carga horária e Atualização
Complementos
Saiba mais
Promoção Relâmpago - Até 70% de desconto!
Curso NR 10 Básico em EAD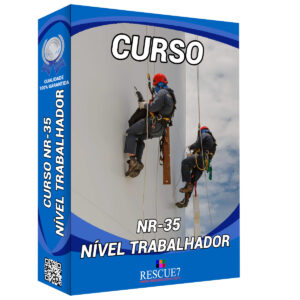 Curso NR-35 - Nível Trabalhador
Curso Como Elaborar Projeto de Linha de Vida - Nível Básico
Curso Espaço Confinado - Autorizados e Vigias NR 33