Technical Name: First Aid and AED (Automatic External Defibrillator) Course
We provide courses and training; We perform Translations and Interpretations in Technical Language: Portuguese, English, Spanish, Mandarin, German, Hindi, Japanese, Arabic and others consult
First Aid and AED
Training The purpose of the First Aid and AED Training is to provide participants with guidance on how to proceed in urgent situations and clinical emergencies, especially in support of cardiopulmonary arrest (CPA) with proper handling of the Automatic External Defibrillator ( DEA).
Aiming at the expansion, discussion, stimulation, systematization and prevention of serious clinical cases, sensitizing the team in maintaining quality and joining efforts to "save life", in its fullness and function, to the detriment of irreversible neurological sequelae, the need for quick, sequential and adequate service.
What is AED and First Aid?
The AED is the Automatic External Defibrillator equipment and has the function of resuscitating the victim in cardiovascular arrest, through electric shocks.
The First Aid Training trains for understanding and basic notions of care, with immediate and temporary interventions in order to maintain the vital functions of accident victims; assists in the identification and differentiation of types of injuries and instructs in the application of techniques and initial care procedures appropriate to each type of emergency. 
Não perca tempo, solicite SUA proposta agora mesmo!
Conteúdo Programatico Normativo
First Aid and AED Training
Principles of Psychology of Behavior applied to Security.
Cardiorespiratory arrest and Universal Algorithm;
MRCP -External Cardiac Massage;
Clinical Emergencies;
Emergency Identification;
Importance of SAMU -192 and Clinical Aspects;
Traumatic emergencies;
Hemorrhagic Shock and Burns;
Intoxications and Fainting;
Vital Signs and Seizures;
Self-Control and Self-Protection;
Crush and Drowning;
Defibrillation;
Ventricular Fibrillation: Concept and Importance;
External Automatic Defibrillator – AED;
Cardiorespiratory arrest in children;
Legal and ethical aspects of the use of the DEA in Brazil;
Anatomy and Physiology of the Circulatory System;
Scenario Assessment: Kinematic of trauma;
Initial Assessment: Airways; Breathing; Circulation;
Cardiopulmonary Resuscitation;
How and When to Use the AED;
Different DEA models;
DEA Inspection and Maintenance;
Pacemaker and Implanted Defibrillators.
Activity Complements:
Awareness of Importance:
APR (Preliminary Risk Analysis);
PAE (Emergency Action Plan;
PGR (Risk Management Plan);
Understanding the need for the Rescue Team;
The Importance of knowledge of the task;
Accident prevention and notions of first aid;
Fire protection;
Perception of risks and factors that affect people's perceptions;
Impact and behavioral factors on safety;
Fear factor;
How to find the fastest and easiest way to develop Skills;
How to control the mind while working;
How to manage and manage work time;
Why balance energy during activity in order to obtain productivity;
Consequences of Habituation of Risk;
Work accident causes;
Notions about the Tree of Causes;
Notions about Fault Tree;
Understanding Ergonomics;
Job Analysis;
Ergonomic Hazards;
Hazard Communication Standard (HCS) – OSHA;
Practical Exercises:
Evidence Recording;
Theoretical and Practical Assessment;
Certificate of participation.
First Aid and AED Training
Referências Normativas
Carga horária e Atualização
Complementos
Saiba mais
Promoção Relâmpago - Até 70% de desconto!
Curso NR 10 Básico em EAD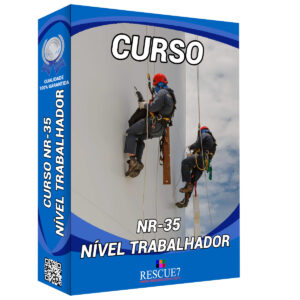 Curso NR-35 - Nível Trabalhador
Curso Como Elaborar Projeto de Linha de Vida - Nível Básico
Curso Espaço Confinado - Autorizados e Vigias NR 33