Curso NR 37 – Nível Básico em Inglês
Technical Name: Course NR 37 - Basic Level - Safety and Health in Oil Rigs
We provide courses and training; We perform Translations and Versions in Technical Language: Portuguese, English, Spanish, French, Italian, Mandarin, German, Russian, Swedish, Dutch, Hindi, Japanese and others consult.
Course NR 37 – Basic Level
The purpose of the NR 37 Course – Basic Level is to provide the team involved with all the guidelines imposed by the standard for sizing the eminent risk analysis of the task, activity composition, and contemplating the offshore fire prevention and combat systems.
What is NR 37?
NR 37 is the Regulatory Norm that quantifies and sizes the minimum requirements for carrying out activities on board oil platforms, establishing the levels of safety, health, and living conditions of the team involved.
Types of Oil Platforms:
Fixed;
TLWP – Semi-submersible Platform attached to the bottom of the sea with steel cables;
FPSO – Floating Production Storage Offloading;
Semisubmersible;
Self-Relevable;
Drill Ship.
Click on the Link: Criteria for Issuing Certificates in accordance with the Norms
Não perca tempo, solicite SUA proposta agora mesmo!
Conteúdo Programatico Normativo
Course NR 37 – Basic Level
Item 37.8.10.2
37.9.6.3 The basic training, provided in item "b" of item 37.9.6, shall be conducted before the first boarding, have a minimum duration of 6 hours and address the risk inventory and the control measures established in the RMP of the platform, in particular:
a) means and procedures for access to the platform;
b) working conditions and environment;
c) combustible and flammable substances on board: characteristics, properties
c) combustible and flammable substances on board: characteristics, properties, dangers and risks
d) classified areas, ignition sources and their control;
e) environmental risks existing in the platform area;
f) safety measures available to control operational risks on board;
g) other risks related to the specific activities of the workers and the respective control and elimination measures
control and elimination measures;
h) psychosocial risks arising from various stressors, such as long working hours, shift and night work, and the respective control and elimination measures
h) psychosocial risks arising from various stressors, such as long working hours, shift and night work, addressing their effects on work activities and health;
i) radiological risks of industrial origin or of natural occurrence, when existing;
j) dangerous chemicals and explosives stored and handled on board;
k) Safety Information Sheet of Chemical Products – FISPQ;
l) Collective Protection Equipment – CPE;
m) Individual Protection Equipment – IPE; and
n) procedures to be adopted in emergency situations.
37.9.6.3.1 Basic training is not mandatory for delegations, visitors and administrative activities only.
37.9.6.3.2 The basic training of workers not working on the platform shall be given, complemented or validated by the operator of the installation.
Activity Complements:
Awareness of Importance:
APR (Preliminary Risk Analysis);
PAE (Emergency Action Plan;
PGR (Risk Management Plan);
Understanding the need for the Rescue Team;
The importance of knowledge of the task;
Accident prevention and first aid notions;
Fire protection;
Perception of risks and factors that affect people's perceptions;
Impact and behavioral factors on safety;
Fear factor;
How to discover the fastest and easiest way to develop Skills;
How to control the mind while working;
How to administer and manage working time;
Why balance energy during activity in order to obtain productivity;
Consequences of Habituation of Risk;
Work accident causes;
Notions about the Tree of Causes;
Notions about Fault Tree;
Understanding Ergonomics;
Job Analysis;
Ergonomic Hazards;
Hazard Communication Standard (HCS) – OSHA;
Practical exercises:
Registration of Evidence;
Theoretical and Practical Assessment;
Certificate of participation
Our Multidisciplinary Team is entitled to insert the standards, laws, decrees or technical parameters that they deem applicable, whether related or not to the scope of service negotiated, with the Contracting Party being responsible for providing the necessary services in accordance with the legislation, as established in them.
Course NR 37 – Basic Level
Referências Normativas
Carga horária e Atualização
Complementos
Saiba mais
Promoção Relâmpago - Até 70% de desconto!
Curso NR 10 Básico em EAD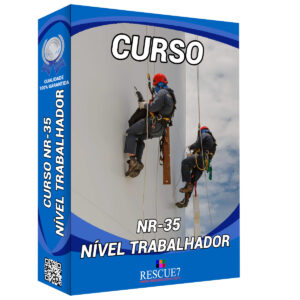 Curso NR-35 - Nível Trabalhador
Curso Como Elaborar Projeto de Linha de Vida - Nível Básico
Curso Espaço Confinado - Autorizados e Vigias NR 33