Curso Guindaste Esteira em Inglês
Technical Name: Safety in the Operation of Mobile Crane on Crawler Training Course - NR 11 and NR 12
We provide courses and training; We perform Translations and Versions in Technical Language: Portuguese, English, Spanish, French, Italian, Mandarin, German, Russian, Swedish, Dutch, Hindi, Japanese and others consult.
Crane Crawler Course
The course aims to classify operating safety measures to improve daily activities, bearing in mind the necessary characteristics for cargo handling and the safety of the staff involved.
What is Crane Crawler?
The Crane Crane is a piece of equipment used in several areas of construction, with a large load handling capacity and long reach for large and small materials.
NR 11 – Transporte, Movimentação, Armazenagem e Manuseio de Materiais
11.1.3 Os equipamentos utilizados na movimentação de materiais, tais como ascensores, elevadores de carga, guindastes, monta-carga, pontes-rolantes, talhas, empilhadeiras, guinchos, esteiras-rolantes, transportadores de diferentes tipos, serão calculados e construídos de maneira que ofereçam as necessárias garantias de resistência e segurança e conservados em
perfeitas condições de trabalho.
11.1.3.1 Especial atenção será dada aos cabos de aço, cordas, correntes, roldanas e ganchos que deverão ser inspecionados, permanentemente, substituindo-se as suas partes defeituosas.
11.1.3.2 Em todo o equipamento será indicado, em lugar visível, a carga máxima de trabalho permitida.
11.1.3.3 Para os equipamentos destinados à movimentação do pessoal serão exigidas condições especiais de segurança.
11.1.4 Os carros manuais para transporte devem possuir protetores das mãos.
11.1.5 Nos equipamentos de transporte, com força motriz própria, o operador deverá receber treinamento específico, dado pela empresa, que o habilitará nessa função.
NR 11 – Transport, Handling, Storage and Material Handling
11.1.3 Equipment used in material handling, such as lifts, freight elevators, cranes, hoists, overhead cranes, hoists, forklifts, winches, conveyors, conveyors of different types, will be calculated and constructed in a manner that offer the necessary guarantees of strength and security and kept in
perfect working conditions.
11.1.3.1 Special attention will be given to steel cables, ropes, chains, pulleys and hooks that must be permanently inspected, replacing their defective parts.
11.1.3.2 The maximum workload allowed will be indicated on all the equipment in a visible place.
11.1.3.3 For equipment intended for the movement of personnel, special safety conditions will be required.
11.1.4 Manual carriages for transport must have hand protectors.
11.1.5 In transport equipment, with its own motive power, the operator must receive specific training, given by the company, which will enable him in this role.
Click on the Link: Criteria for Issuing Certificates in accordance with the Norms
Não perca tempo, solicite SUA proposta agora mesmo!
Conteúdo Programatico Normativo
Crane Crawler Course
Terms and definitions;
List of important risks;
Actuation of safety devices;
Security requirements and measures;
Generalities;
Safe operation of the machine or equipment;
Safe working method;
Specific protections;
Controls;
Safe inspection, adjustment and maintenance;
Operation of protections;
Reading and interpretation of the lifting plan;
Visual identification of damage to pulleys, hooks, steel cables and synthetic straps;
Rated capacity limiter;
Loads and forces;
Safety for mechanical, electrical hazards;
Description and identification of the risks associated with each machine and equipment;
Accidents prevention;
Safety in using the machine or equipment;
Operation and daily inspection of equipment;
Crane nameplate;
Warning and danger signs;
Emergency stop device;
Main relief valves;
Work permission;
Load lashing;
Risk control measures: Collective Protection Equipment – EPCs and Personal Protection Equipment – PPE;
Machine and equipment operation blocking system during inspection, cleaning, lubrication and maintenance operations;
Conditions that affect the machine's load capacity, in particular with regard to levelling, Characteristics of the surface under the machine, dynamic load and wind;
Notions about traffic legislation and health and safety at work legislation;
Beware of nearby high voltage lines;
Signaling by hand and by radio communication;
Precautions against rupture of the hydraulic line;
Boom system lowering rate;
Combination of loads;
Procedures in emergency situations;
Notions about accidents and diseases resulting from exposure to risks in the machine, equipment and implements;
Performance limiters;
Acoustic alarm;
Stress analysis;
Isolation of areas under suspended loads;
Rated capacity indicators;
Mechanical arrangements;
Stabilizers;
Emergency lowering device;
Hoses, tubes and fittings;
Transport security;
Hooks equipped with a safety lock that meet these requirements;
Hydraulic systems;
Hydraulic reservoir;
Hydraulic pump;
Pressure relief valves;
Safety signage.
Activity Complements:
Awareness of Importance:
APR (Preliminary Risk Analysis);
PAE (Emergency Action Plan;
PGR (Risk Management Plan);
Understanding the need for the Rescue Team;
The importance of knowledge of the task;
Accident prevention and first aid notions;
Fire protection;
Perception of risks and factors that affect people's perceptions;
Impact and behavioral factors on safety;
Fear factor;
How to discover the fastest and easiest way to develop Skills;
How to control the mind while working;
How to administer and manage working time;
Why balance energy during activity in order to obtain productivity;
Consequences of Habituation of Risk;
Work accident causes;
Notions about the Tree of Causes;
Notions about Fault Tree;
Understanding Ergonomics;
Job Analysis;
Ergonomic Hazards;
Hazard Communication Standard (HCS) – OSHA;
Practical exercises:
Registration of Evidence;
Theoretical and Practical Assessment;
Certificate of participation.
Our Multidisciplinary Team is entitled to insert any standards, laws, decrees or technical parameters that they deem applicable, whether related or not to the scope of service negotiated, with the Contracting Party being responsible for providing the necessary services in accordance with the legislation, as established in the same.
Crane Crawler Course
Referências Normativas
Carga horária e Atualização
Complementos
Saiba mais
Promoção Relâmpago - Até 70% de desconto!
Curso NR 10 Básico em EAD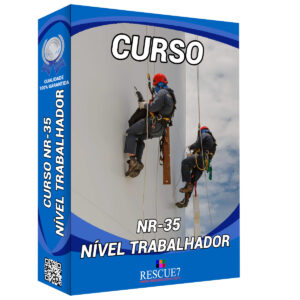 Curso NR-35 - Nível Trabalhador
Curso Como Elaborar Projeto de Linha de Vida - Nível Básico
Curso Espaço Confinado - Autorizados e Vigias NR 33