Curso Espaço Confinado Autorizado e Vigia em Inglês
NR 33 Confined Space Authorized and Watcher Traning
Objective: Establish minimum requirements for the identification of confined spaces and the recognition, evaluation, monitoring and control of existing risks, in order to permanently guarantee the safety and health of workers who interact directly or indirectly in these spaces.
Definition: Confined Space is any area or environment not designed for continuous human occupancy, which has limited inlet and outlet means, where existing ventilation is insufficient to remove contaminants or where it may have deficiency or enrichment of oxygen.
NR 33 Confined Space Authorized and Watcher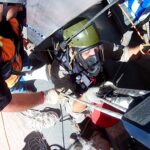 Program Content:
Definitions;
Recognition, evaluation and control of risks;
Control measures;
Physical risks;
Chemical risks;
Biological risks;
Ergonomic risks;
Risks of accidents;
Identification of confined spaces;
Operation of equipment used in Confined Spaces;
Breath protection;
Procedures and use of the Entry and Work Permit;
The forms of communication between the team, lookouts and rescue group;
Concepts and practices on safety equipment;
Types of safety equipment (PPE and EPC);
Operation of safety equipment;
Inspection of equipment and safety items;
Criteria for indicating and using equipment for risk control;
Operation of equipment used in Confined Spaces;
Procedures and use of Entry and Work Permit in confined spaces;
Accident Prevention, Notions of First Aid + DEA.
NR 33 Confined Space Authorized and Watcher:
Workload: NR 33 Confined Space Authorized and Watcher
Training = Minimum Workload = 16 hours
Updating = Minimum Workload = 08 hours
Certification: The Certificate of the NR 33 Confined Space Authorized and Watcher training will be issued for each participant that achieves the minimum use of 70% (theoretical and practical) as recommended by the Regulatory Norms.
33.3.5.3 All authorized workers, Watchers and Entry Supervisors must receive periodic training every 12 months, with a minimum working load of 8 hours. (Amended by Ministerial Order No. 1,409, of August 29, 2012).
33.3.5.2 The employer shall develop and implement training programs whenever any of the following situations occur:
A) change in procedures, conditions or work operations;
B) some event that indicates the need for new training; And
C) where there is a reason to believe that there are deviations in use or entry procedures in confined spaces or that knowledge is not adequate.
33.3.5.4 The initial training of authorized workers and Watchers must have a minimum workload of sixteen hours, be carried out within working hours, with programmatic content of: (Amended by Administrative Rule MOP no. 1,409, of August 29, 2012) .
A) definitions;
B) recognition, evaluation and control of risks;
C) operation of equipment used;
D) procedures and use of the Entry and Work Permit; And
E) notions of rescue and first aid.
33.3.5.1 The designation for work in confined spaces is prohibited without the prior qualification of the worker.
33.4.2 Personnel responsible for the execution of rescue measures shall be physically and mentally compatible with the activity to be performed.
33.4.3 The training of the rescue team shall include all possible accident scenarios identified in the risk analysis.
33.5 General Provisions
33.5.1 The employer shall ensure that workers are able to interrupt their activities and leave the workplace whenever they suspect that there is a serious and imminent risk to their safety and health or to a third party worker.
33.5.2 The contracting company and the contractor company shall be jointly and severally liable for compliance of this NR.
33.5.3 It is forbidden to enter and perform any work in confined spaces without the issue of the Entry and Work Permit.
Curso Espaço Confinado Autorizado e Vigia NR 33 em Inglês: Consulte-nos.