Activities In Classified Areas
Technical Name: Improvement Course On The Application Of Standards For Activities In Classified Areas
Ministramos Cursos e Treinamentos; Realizamos Traduções e Interpretações em Idioma Técnico: Português, Inglês, Espanhol, Mandarim, Alemão, Hindi, Japonês, Árabe e outros consultar
Improvement Course on the Application of Standards for Activities in Classified Areas
The purpose of the Activities in Classified Areas Training is to instruct and raise awareness among professionals about safe methods and procedures for work in classified areas. It is essential that the training be applied by thruly trained and qualified professional, aiming to guarantee the safety and health of the worker.
What is a Classified Area?
Classified Area is a space with the presence of voltage current and potencially explosive atmosphere, where there is a probability of occurrence, which presents the need for the implementation of special precautionary measures in construction, installation and use of electrical equipment.
Zone 0 Place where the formation of an explosive mixture is continuous or exists for long periods.
Zone 1 Place where the formation of an explosive mixture is likely to occur under normal operating conditions for process equipment.
Zone 2 Place where the formation of an explosive mixture is unlikely to happen and if it does, it is for short periods and is still associated with the abnormal operation of the process equipment.
Zone 20 Areas where the presence of the explosive atmosphere is permanent, for a prolonged or frequent period.
Zone 21 Areas where the presence of an explosive atmosphere may occasionally occur.
Zone 22 Areas where the formation of the explosive atmosphere exists due to the accumulation of accumulated dust and is unlikely, if it occurs, it is for a short time.
Não perca tempo, solicite uma proposta agora mesmo!
Conteúdo Programatico
Improvement Course on the Application of Standards for Activities in Classified Areas
Basic Module
Introduction to explosive atmospheres;
Prevention of the formation of explosive atmospheres;
Ignition sources;
Basic procedures in emergency situations with flammables;
Collective and individual controls for work with flammable materials;
Classification of areas according to the applicable rules;
Individual Protection Equipment for Hazardous Areas;
Characteristics, properties, hazards and risks with Flammable;
Knowledge and use of fire safety systems;
Intermediate Module
Flammability limits;
Risk assessment;
Determination of control measures;
Area delimitations;
Flammable substances (thermochemical properties);
Collective and individual controls for work with flammable materials;
Procedures in emergency situations in classified areas;
Preliminary Hazard / Risk Analysis: concepts and practical exercises;
Permission to Work in Hazardous Areas;
Electrical Module
Presence of electrical equipment in explosive atmospheres;
Methods for identifying hazards arising from electricity;
Regulatory requirements for the presence of electrical systems in explosive atmospheres;
Signaling to prevent energization;
Gas zones, groups and subgroups;
Identification of electrical circuits;
Signaling of circulation areas;
Identification of impeded equipment or circuit;
Risk areas;
Advanced Module I
Instruments with intrinsic safety;
Locking and blocking devices and switching systems and controls;
Access restrictions and impediments;
Flammable accidents: analysis of causes and preventive measures;
Emergency Response Planning with Flammables;
Knowledge and use of fire safety systems with flammables;
Advanced Module II
Accidents with flammables: analysis of causes and preventive measures;
Emergency Response Planning with Flammables;
Knowledge and use of fire safety systems in Classified Areas;
Basic notions of change management;
Risk Analysis Methodologies: concepts and practical exercises;
Basics of installation process security;
Complements for Machines and Equipment when applicable:
Awareness of Importance:
Instruction Manual for Operation of the Machine or Equipment;
Inspection and Maintenance Plan for the Machine or Equipment according to NR 12;
Technical Report with ART of the Machine or Equipment according to NR 12;
Load Test (with ART) according to NR 12;
END (Non-Destructive Testing) according to NR 12;
Electrical Tests NR 10;
Tagging of Machines and Equipment;
RETROFIT – Modernization Process;
Daily Checklist;
One-off or cyclical maintenance.
Activity Complements:
Awareness of Importance:
APR (Preliminary Risk Analysis);
PAE (Emergency Action Plan;
PGR (Risk Management Plan);
Understanding the need for the Rescue Team;
The Importance of task knowledge;
Prevention of accidents and first aid notions;
Fire protection;
Perception of risks and factors that affect people's perceptions,
impact and behavioral factors in safety,
fear factor,
how to discover the fastest and easiest way to develop skills,
how to control the mind while working,
how to manage and manage working time,
Why balance energy during activity in order to obtain productivity;
Consequences of Risk Habituation;
Causes of accidents at work;
Understanding Tree of Causes;
Understanding Fault Tree;
Understandings on Ergonomics;
Workstation Analysis;
Ergonomic Risks;
Hazard Communication Standard (HCS) – OSHA;
Practical Exercises:
Record of Evidence;
Theoretical and Practical Evaluation;
Certificate of participation.
Improvement Course on the Application of Standards for Activities in Classified Areas 
Referências Normativas
Improvement Course on the Application of Standards for Activities in Classified Areas
Normative references when applicable to applicable devices and their updates:
NR 01 – Disposições Gerais e Gerenciamento de Riscos Ocupacionais;
NR 23 – Proteção Contra Incêndios;
ABNT NBR 16746 – Segurança de máquinas – Manual de Instruções – Princípios gerais de elaboração;
ABNT NBR 13759 – Segurança de máquinas – Equipamentos de parada de emergência – Aspectos funcionais – Princípios para projeto;
ABNT NBR ISO 14121-2 – Segurança de máquinas – Apreciação de riscos;
ABNT NBR 16710-2 Resgate Técnico Industrial em Altura e/ou em Espaço Confinado – Parte 2 Requisitos para provedores de Treinamento e Instrutores para qualificação Profissional;
ABNT NBR 14276 – Brigada de incêndio – Requisitos;
ABNT NBR 14277 – Instalações e equipamentos para treinamento de combate a incêndio – Requisitos;
ABNT NBR ISO/CIE 8995 – Iluminação de ambientes de trabalho;
ABNT NBR 9735 – Conjunto de equipamentos para emergências no transporte terrestre de produtos perigosos;
Protocolo – Guidelines American Heart Association;
Portaria GM N.2048 – Política Nacional de Atenção as Urgências;
OIT 161 – Serviços de Saúde do Trabalho;
ISO 10015 – Gestão da qualidade – Diretrizes para treinamento;
ISO 45001 – Sistemas de gestão de saúde e segurança ocupacional – Requisitos com orientação para uso;
ISO 56002 – Innovation management – Innovation management system;
Nota: Este Serviço atende exclusivamente as exigências da Secretaria Especial de Previdência e Trabalho (SEPRT); quando se tratar de atendimento a outros Órgãos, informe no ato da solicitação.
Improvement Course on the Application of Standards for Activities in Classified Areas
Carga horária e Atualização
Improvement Course on the Application of Standards for Activities in Classified Areas
Inexperienced participants:
minimum workload = 96 hours/class
Experienced participants:
Minimum workload = 48 hours/class
Update (Recycling):
Minimum workload = 16 hours/class
Update (Recycling):  The employer must carry out  periodic training Annually  and whenever any of the following situations occur:
a) change in work procedures, conditions or operations;
b) event that indicates the need for new training;
c) return to work for more than ninety days;
d) change of company;
e) Exchange of machinery or equipment.
Improvement Course on the Application of Standards for Activities in Classified Areas 
Complementos
Improvement Course on the Application of Standards for Activities in Classified Areas
Attention: The Course teaches you to apply the normative concepts of the standard, which enables you to sign Projects, Reports, Expertise etc. these are the duties that the Legally Qualified Professional has with his Class Council, like CREA.
This course aims to study where the hypotheses will be necessary to apply: Concepts and Calculations according to relevant Standards and does not replace the analysis and responsibility on the part of each professional accredited with CREA or other Councils of Classes in the most varied situations, where makes it absolutely necessary to respect the conditions of conservation of the equipment, periodic checking of the instruments, as well as the respect of primary capacity pre-supplied by the manufacturers of PPE's, among others based on the corresponding Norms.
Certificate: The Certificate will be issued to each participant who achieves a minimum of 70% (theoretical and practical) in accordance with the Regulatory Standards.
Criteria of Training or Update Certificates:
Our certificates are numbered and issued in accordance with the Regulatory Standards and applicable devices:
Issuance of A.R.T. (Annotation of Technical Responsibility);
Employee's full name and identity document;
Program content;
Workload; City, place and date of the training;
Name, identification, signature and qualification of the instructor (s);
Name, identification and signature of the technician responsible for the training;
Name and qualification of our Qualified Professional;
Specification of the type of work;
Space for signature of the trainee;
Information on the Certificate that the participants received an e-book containing didactic material (Handout, Videos, Standards, etc.) presented in the training.
Training Evidence: Edited video, photos, digitalized documentation, continuous improvement, instructor's opinion: Consult values.
Heads up:
Distance Learning, Distance Learning, Distance Learning The Distance Learning Certificate also known as Online, according to LAW No. 9,394, OF DECEMBER 20, 1996. It can be used for: Complementary Activities; Company valuations; Public tenders; University Extension; Extracurricular hours; Improved chances of getting a job; Recruitment processes; Internal promotions; Title Evidence; Doctoral selections; Master's selections; You get other opportunities. Course 100% EAD (Distance Learning) or Semi-face-to-face needs a Pedagogical Project only valid for the Employer, if it follows in full the SEPRT Ordinance No. 915, of July 30, 2019 – NR 01 – General Provisions of the Special Secretariat of Social Security and Labor. Click here
Understand the relationship between Price and Value:
Performing a task as strategic as pricing a Service requires knowledge of the business world.
Two fundamental concepts to understand how to price are the definitions of Price and Value.
Value is a qualitative concept, and it is linked to the transformative potential of that content.
A course is more valuable when it adds more knowledge to the target audience.
Price is a consequence of value.
Because it is an essentially quantitative concept, it is responsible for "translating" the value into a number.
Therefore, the greater the value added to the content, the higher the fair price.
Causes of Work Accidents:
Lack of alert by the employer;
Lack of employee care;
Even carrying out all the mandatory Training and Reports on Occupational Health and Safety in the event of an accident at work, the employer will be subject to Processes such as:
Police Inquiry – Civil Police;
Expertise through the Criminalist Institute;
Verification procedure with the Regional Labor Office;
Public Civil Inquiry before the Public Ministry of Labor to verify that the other workers are not in danger;
The INSS will question the cause of the accident that could be avoided and refuse to pay the benefit to the employee;
Family members may file a lawsuit in the Labor Court claiming moral, material, dislocation damages, etc .;
Procedural Tsunami forcing the Employer to generate Defense Strategy even if he is right;
Although the Labor Delegation Law does not provide that "guilt en vigilando" applies, but only the responsibility of delivering the equipment, however it is worth stressing that the Employer is also responsible for monitoring;
When an accident occurs in addition to destroying all the "good humor" in the relationships between employees or also the very serious problem of defending yourself from a series of procedures at the same time, then it is worth investing in this prevention;
The Employee cannot carry out activities exposed to risks that could compromise his safety and health, so the Employer will be able to respond in the criminal and civil spheres.
LEI Nº 5.194, DE 24 DEZ 1966 – CONFEA:
"Seção III
Exercício Ilegal da Profissão
Art. 6º – Exerce ilegalmente a profissão de engenheiro, arquiteto ou engenheiro-agrônomo:
a) a pessoa física ou jurídica que realizar atos ou prestar serviços, públicos ou privados, reservados aos profissionais de que trata esta Lei e que não possua registro nos Conselhos Regionais:
b) o profissional que se incumbir de atividades estranhas às atribuições discriminadas em seu registro;
c) o profissional que emprestar seu nome a pessoas, firmas, organizações ou empresas executoras de obras e serviços sem sua real participação nos trabalhos delas;
d) o profissional que, suspenso de seu exercício, continue em atividade;
e) a firma, organização ou sociedade que, na qualidade de pessoa jurídica, exercer atribuições reservadas aos profissionais da Engenharia, da Arquitetura e da Agronomia, com infringência do disposto no parágrafo único do Art. 8º desta Lei."
Improvement Course on the Application of Standards for Activities in Classified Areas
Saiba mais
Saiba Mais: Improvement Course on the Application of Standards for Activities in Classified Areas:
Summary of main points of discussion and changes In 2015, approximately 350,000 adults in the United States presented non-traumatic out of-hospital cardiac arrest (PCREH) attended by emergency medical services personnel (SME). Despite recent gains, less than 40% of adults receive lay initiated CPR and less than 12% have an automatic external defibrillator (AED) applied before the arrival of the
SME. After significant improvements, survival after of PCREH has been at the same level since 2012. In addition, approximately 1.2% of adults hospitalized in US hospitals undergo in-hospital PCR (PCRIH). You
PCRIH results are significantly better than results of the PCREH and continue to improve. Recommendations for basic life support (BLS) and for Advanced cardiovascular life support are combined in the 2020 guidelines. The main new changes include the
Following:
• Enhanced algorithms and visuals provide features
easy to remember guidelines for
resuscitation in the BLS and SAVC. • The importance of immediate CPR initiation by lay rescuers
has been reemphasized. • Previous recommendations on management epinephrine were reaffirmed, with emphasis on their
earlier administration. • The use of visual feedback devices in real time is
recommended as a way to maintain the quality of CPR. • Measure blood pressure and blood content continuously carbon dioxide at the end of expiration (ETCO2) during resuscitation of SAVC can be useful to improve the quality
of RCP. • Based on the most recent evidence, the routine use of dual sequential defibrillation is not recommended. • Intravenous (IV) access is the preferred route of administration
of medication during resuscitation in the SAVC. Access
intraosseous (IO) is acceptable if IV access is not available. • Patient care after the circulation returns spontaneous (CER) requires a lot of attention to oxygenation,
blood pressure control, intervention evaluation percutaneous coronary artery, targeted temperature control and multimodal neuroprognosis.
• Since post-CPA rehabilitation continues long after initial hospitalization, patients should have evaluation and formal support for your physical, cognitive and psychosocial. • After resuscitation, debriefing for lay rescuers, EMS professionals and health professionals in the hospital can be beneficial for support in mental health and well-being of themselves. • The treatment of CRP in pregnancy is focused on resuscitation maternal care, with the preparation for a cesarean emergency, if necessary, to save the baby and improve chances of successful mother's resuscitation
Algorithms and visuals The drafting group reviewed all the algorithms and made improvements focused on visual resources for training ensuring their usefulness as bedside care tools and reflect the latest science. The main changes in the algorithms and other features include the following: • A sixth link, Recovery, was added to the chains of survival of PCRIH and PCREH (Figure 3). • The universal PCR algorithm for adults has been modified to emphasize the role of early administration of epinephrine in  patients with non-shockable rhythms (Figure 4). • Two new algorithms for opioid-associated emergencies were added for lay rescuers and rescuers trained (Figures 5 and 6).
• The post-PCR care algorithm has been updated to emphasize the need to avoid hyperoxia, hypoxemia and hypotension (Figure 7).
• A new diagram has been added to guide and inform about the neuroprognosis (Figure 8). • A new algorithm for PCR during pregnancy has been added to address these special cases
*OBS: É necessário que o Plano de Inspeção Manutenção NR 12  de cada Máquina e/ou Equipamento esteja atualizado em Conformidade com as Normas Regulamentadoras.
Improvement Course on the Application of Standards for Activities in Classified Areas: Consulte-nos.
Promoção Relâmpago - Até 70% de desconto!
Curso NR 10 Básico em EAD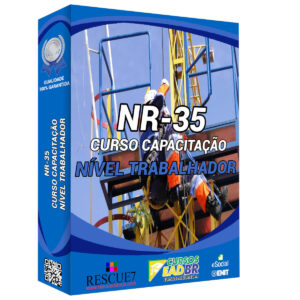 Curso NR-35 - Nível Trabalhador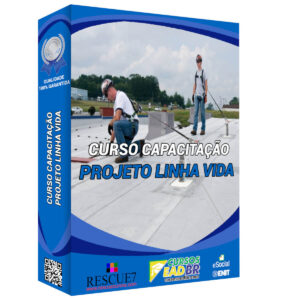 Curso Como Elaborar Projeto de Linha de Vida
Curso Espaço Confinado - Autorizados e Vigias NR 33